If your family is anything like mine, the holidays are basically a big Cougar schwag exchange, with everyone getting a complete overhaul of their Wazzu wardrobe and countless new crimson nick nacks to add to their growing piles of crimson nick nacks. With black friday in the rearview mirror it is finally safe to go shopping again, so lets take a look at what gift ideas are out there this year for the Coug fans in your life as well as what to avoid. Also, If you are pretty certain you will be on the receiving end of some Coug gifts this season, be sure to share this with the necessary folks to ensure you get more than an errand to run to the local Goodwill. After the jump, we'll go shopping…
Lets start off with things to avoid. The world of Coug gifts is a virtual minefield, littered with all kinds of boobie traps and potential mishaps that can relegate even the best intentions to the back of the closet or a deep dark corner of the attic. Here are some examples:
Beware of things that are out of date, like a 2011 Coug calendar, a Copper Bowl Champs hat, CJ Mizell jersey, or this…
Ok, so I admit, that thing is rad and I want it on my desk. However, unless you were going for nostalgia, I suggest you wait a few years until all this stadium expansion business settles down and the Danbury Mint produces an up-to-date version.
Also, beware of merchandise that is just plane wrong. Our school colors are Crimson and Gray, so please, no blue, or green, or GOD FORBID, black Coug stuff. I understand the pink stuff if you are supporting cancer awareness, or the camo stuff to show solidarity with veterans and those serving our country, but please try to stick to the crimson and gray palette. Besides colors, there are other things that can go horribly wrong as well. Like these…
This should be simple, but let me explain why both of these helmets should make you laugh. The first one that claims to be from the 60's with the strange not-quite-our logo on it. I am not going to even bother researching if we used that logo in the 60's because that facemask is TOTALLY NOT FROM THE 60's. No self respecting Coug fan wants this thing. The second one was heading in a better direction until they added the black face mask. Come on, man! Its like they think we fans don't even know our own team! Ugh, moving on…
This year I am issuing an advisory to avoid Cougar golf stuff and here is why… I don't think its a good idea to combine things that likely account for over 70% of the frustration in your life. If you are a normal person, your golf game is at least as baffling and irritating as Cougar football, so why bring these two things together? This is simple associative psychology, folks. The less you learn to associate the Cougs with futile, wasted efforts disguised as recreation, the more likely you are to be able to endure a season like 2012 (or 2008, 2009, 2010, etc).
Now that we've covered some of the potential prat falls of the gift giving season, lets turn our attention to some of the very good gift ideas that are sure to warm the hearts of your Cougar loved ones:
Lets face it, nothing says "I love you" like a can of cheese (except for two cans of cheeese, amarite?).
Now that Amieable and I live in far flung Utah, we appreciate this stuff more than ever. This is a can't miss gift idea and even works for folks who aren't Coug fans. I have seen many a Husky eagerly wulf down some Cougar Gold with their patte and riesling.
Remember that whole "associative psychology" thing above? Well, it goes both ways. Why not teach yourself to associate the Cougs with something much more stimulating than golf?
(Barry White album sold seperately.)

Now keep in mind, gents, this is the kind of gift that requires you to be honest about who it is really for.
Some gift ideas are a little more utilitarian, but still come with plenty of Cougar spirit. Like this fire pit: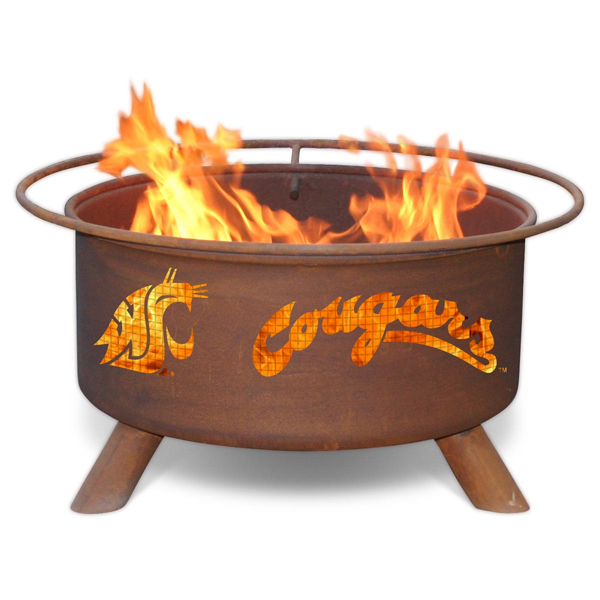 That thing is awesome and, lets be honest, fire is never going out of style.
Or speaking of things to keep you warm, how about this Coug snuggie…

We have one and can vouch for its unparalleled ability to keep you warm while not restricting the use of your arms.
Another useful item you may consider for the unfortunate friend or family member who is dealing with an infestation of these…
Word is they are running rampant in the suburbs of King and Pierce counties, which is why many people are hoping Santa delivers them some of these…
Gnome-be-gones. Guarenteed to irradicate all unwanted gnomes and some small children.
Finally, It is often said that it is better to give than to receive. This is true. But it is also true that it is better to give AND give again, than it is to just give. What the hell am I talking about? Well, how about a gift that not only delights that lucky Coug fan in your life, but also helps support the Cougar nation we all love. I found this example from 2010 of a fundraiser for the Department of Apparel, Merchandising, Design and Textiles as part of a campaign for a new building. You get to support this department and its students, plus these are pretty cool…
Sadly, this was a couple years ago, but the idea inspired me to come up with the best Cougar gift idea of this holiday season. How about buying everyone you know a Team Gleason shirt?
Cool shirt, great cause, its a win win.
So good luck to you all and remember, no matter what ends up in your stocking this Christmas, we all got our best present already…