Happy Post-Signing Day Cougs, as we hope all is well with you and yours. Quite a day yesterday, hmmm? The Cougs ended up with 27 commits from yesterday, with 24 of them announced as actually signing their letters of intent, and overall it was a pretty good day as Mike Leach reeled in the #39 ranked class in the country per Scout.com. Not exactly the highest rated class to walk the earth, but on paper anyway it's the best rated WSU group to sign on the dotted line since 2004, when the Cougs finished with the #21 ranked class coming off the 2003 Holiday Bowl win and a 30-8 record from 2001-2003. That 2004 class, btw, included the likes of Michael Bumpus, Jerome Harrison, Tyron Brackenridge, Jed Collins, Dan Rowlands, etc…..as well as the now-infamous Randy Estes and JT Diederichs, two highly touted guys who helped pump up the recruiting rankings but never played a down of football in Pullman! So you just never know.
I think overall I am personally happy with what looks to be a good haul of players where there are some weaknesses on the current roster. In particular, of course, the offensive line saw six new additions, and some good size in the group as well. As a group, they average 6-5 1/2, 300 lbs collectively, and that seems to fit in how Leach likes the good-sized o-linemen. There were five d-linemen as well, and that is a good number any way you cut it.
However it's not all great news, if you want to know the truth. As Sutra asked in comments, where are all the corners in this class who look ready to play? After all the DB's weren't exactly stellar last year, particularly out on the edge, so one hope was that they would land some instant impact-type DB's who could be ready to go this fall. But there were just three cornerback commits yesterday, and two of them haven't sent in their LOI's yet in Markell Sanders and Marcellus Pippins. But per Cougfan, it looks like Sanders and Pippins will be headed for the greyshirt route, meaning they won't even be in the program until January of 2014. So, it doesn't appear immediate help is on the way this year for the cornerback position!
I found that pic of Russell Wilson on Twitter today, as Darren Rovell tweeted it out as a cold-shower reminder before people get too jacked-n-pumped on recruiting rankings. Russell Wilson, the guy people just can't stop talking about and thinking about around the great NW, was a 2-star unknown from Virginia. So again, you just never know what's going to happen. Signing them is one thing, and it's a very big, important step in rebuilding your program or maintaining your excellence if you are already at or near the top of the mountain. But it's always been, and always will be, all about what happens once they step foot on campus and begin their own personal journey as they grow from boys to men.
Much like many of you, I don't want to get too high or too low on recruiting rankings. But I think it's pretty fair to say that they are pretty accurate at the very high end of all the analysis. I mean you look at the consensus top 10 teams and their rankings from yesterday, teams like Alabama, Florida, Ohio State, LSU, etc, and there is at least one clear truth out there – the best teams usually sign the best players available! Sure, there are the Russell Wilson's or even locally, the Marcus Trufant's, Rien Long's and Will Derting's of the world, you know, the unheralded two-star types who rise above it all. But the best teams traditionally sign the best high school hotshots, year in and year out. Sure, we can pick out the outliers ourselves and try and shoot down the star "hype" and all that, but that's just confirmation bias more than anything else, know what I mean?
That said, Mike Bellotti was on ESPN radio yesterday with Colin Cowherd, and he touched on a few of those things in regards to getting TOO excited over recruiting rankings. I would HIGHLY recommend you take 5+ minutes out of your day today and give it a listen. Bellotti spells it out pretty well about not just the so-called "flips" we saw yesterday by some high-rated recruits and why that happens, but also the traps and pitfalls of the 5-star types and what they are about to face as they go on to the next level. I know Bellotti isn't exactly Mr. Popular around the NW schools, but it is a very good listen about what signing day is really all about.
For reactions-n-such around the web on the Cougs, let's check out some links, shall we?
So easily one of the biggest "drama" moments in recent WSU recruiting went down yesterday, as the Cougs almost lost out on a 4-star QB they thought they had wrapped up since the summer. It was kind of a crazy/weird story, but QB Tyler Bruggman was seriously torn between hometown ASU and sticking to his Pullman commitment. Turns out ASU thought they had their QB all ready to sign in Joshua Dobbs, but the kid pulled a stunner and flipped to Tennessee at the last moment. That immediately brought ASU back on the line for Bruggman, and there were even ASU commits calling Bruggman and trying to get him to stay home! With both of Bruggman's parents ASU alums as well, let's just say that it felt like he was going to slip away. But it all worked out in the end…..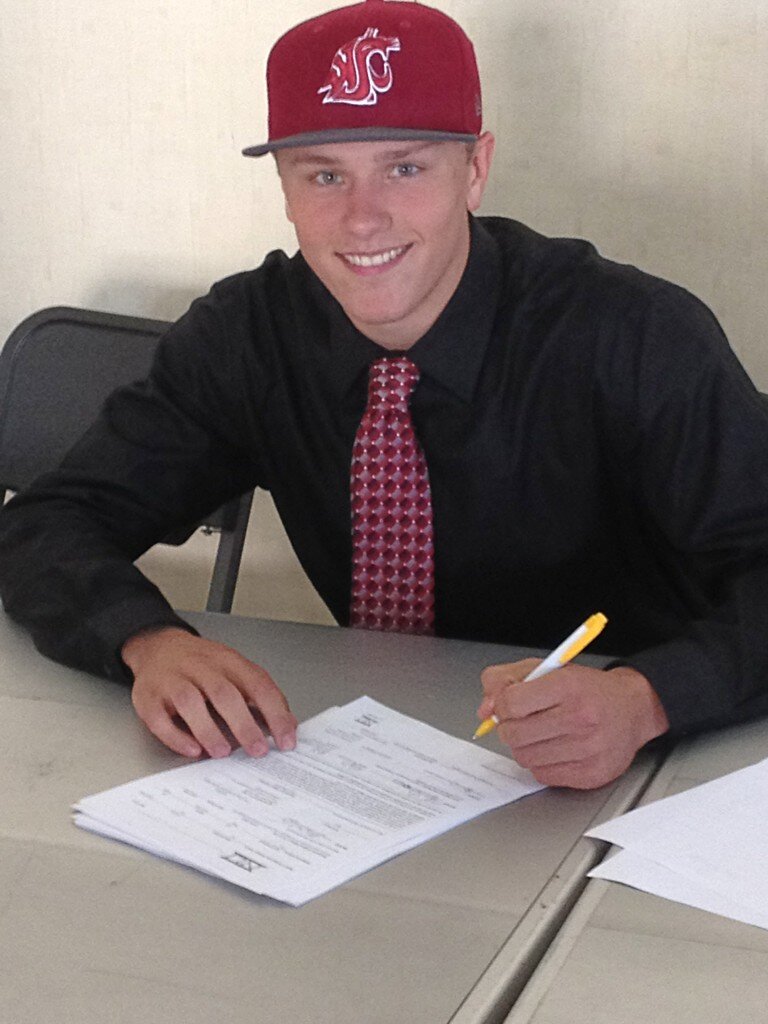 Bud Withers at the Seattle Times has a good read on the whole thing, so check that out here. And per Withers, it appears that the relationship won out between the player and head coach vs. the pull of playing for the hometown school.
Some other stuff: Caple has a good read on Bruggman, as well as some quotes from Leach on the class overall; Howie Stalwick has this on the day that was, where some recruiting analysts are calling it a solid class but promising as well.
Finally, I know it's been said here, there and everywhere, but recruiting is just so important with getting this rebuild off the ground. I for one questioned whether or not Mike Leach is going to be able to pull this thing off, but not so much because of what we saw on the field last year. The main reason I wondered about all this was how he is going to recruit the same kinds of talent he got at Texas Tech up here in Pullman. Would this staff be able to get the linemen, for example, that are soooooo vital to the offense to actually, you know, WORK?? Last year was a painful example of what can happen when you have an O-line that was quite simply overmatched and understaffed for most of 2012. But I look at yesterday and I can't help but feel like things are headed in the right direction. He did go out and sign six O-linemen, and some of them look really promising. And Leach's relationship was a huge reason that WSU landed a 4-star QB, even with the last second drama. I couldn't help but feel like if it was a different year with a different coach in Pullman, maybe Bruggman is wearing an ASU hat yesterday. But instead, we weren't left at the alter after all.
For whatever the ugliness of a 3-9 season in 2012, the Marquess Wilson saga and the abuse allegations and whatever else? Based on signing day, I believe Leach and company appear to have come through clean on the other side after crawling through 500 yards of vile waste, Andy Dufresne-style!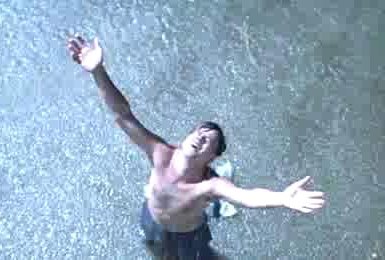 All for now. Enjoy your Thursday, and of course, GO COUGS!