Hello Followers. Hope you're having a great week.
Today marks the last day of real game prep for our trip down to LA-LA land to take on USC. For a few random notes and musings about last week's game as well as my rankings of the Pac-12 post Week 1, read on….
++++
Those of you who listened to the podcast yesterday heard us remark about the positives we took away from the game. But we didn't get to our picks for most impressive offensive and defensive performers. So, here are a few gameballs.
Offense: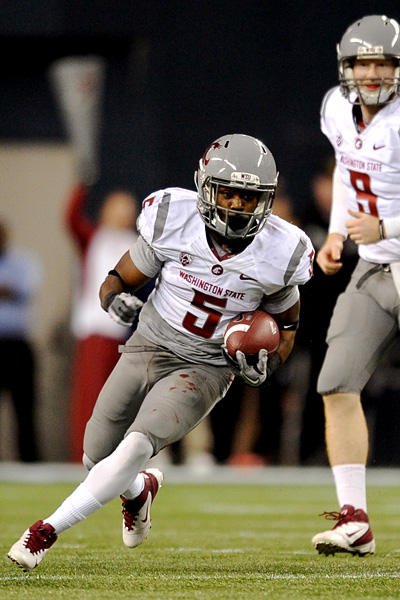 Rickey Galvin (RG5). Those of you who frequent these here blog parts know that RG5 is one of my all-time Coug favorites. Saturday night, Rick looked like a major prime-time performer, hauling in 5 catches for 43 yards as well as breaking up what would have been a game killing interception by Halliday. Although I am biased, I was a bit surprised that he wasn't named the starter for this week. Keep it up, Rick.
Bobby Ratliff. Lots and lots of hype was given to our freshman phenom, River Cracraft, leading into this one. But Bobby showed himself to be a guy that deserves to see a bit more playing time at this point in the year. With 1 touch as well as a 52 yard vertical, Bobby showed the form that we saw from him in the Stanford game last year. Overall, I thought he and the rest of the second string receivers out-performed the first string by a long shot.
Gabe Marks. Marks is a guy that I like a lot, but has never emerged as a guy who really excites me—potentially because of his slighter frame. But on Saturday night, the guy was pretty electric both with his play and attitude. Simply put, when you're trying to reverse the tide of losing, you need guys that are as fearless as they are confident. Marks showed himself to be pretty sturdy over the middle—an attribute that will be needed badly this week against SC.
Marcus Mason/Teondray Caldwell. Lots of talk has been given to the play of our offensive line—especially on the left side. Lots of kudos were also given to our overall performance running the ball. What I haven't heard enough of is how well both of our running backs played in this game. Mason, in particular, ran North-South better than he ever has. Together, not only did they rack up 130 all-purpose yards, they also both averaged OVER SEVEN YARDS PER CARRY on the day. Again, just a terrific effort/performance,
Defensive Prime Time Performers
Junior Gauta. As Jeff Nusser noted over at Cougcenter, Junior played like a beast in the second half. If Xavier Cooper can have a similar type of performance moving forward, the defensive line is going to rank in the upper division in the conference.
Deone Bucannon. Not only did Deone get the nod for "hit of the week" on CBS sports.com, at times he looked like the Cougar player who was the most qualified to start on an SEC roster. What's more, when I watched him run on Saturday night, it became pretty obvious that Mr. Bucannon is going to get his chance to play a lot on Sundays.
Daquawn Brown. I think this guy is going to get a real rude awakening this week against SC. But last week, Mr. Brown came in and gave our defense some much needed moxy and swagger down the stretch. At this point, having guys who are not afraid to attack and get off their blocks is a welcome sight—even if that aggressiveness results in an explosive from time to time. Welcome to the Cougs, D Brown!
In Need of Improvement
We mentioned this on the podcast, but the right side of the line is going to need to step up its game this week if we're going to stay in the ball game. On the bright side, Saturday represented Rico Forbes' debut, so there's good reason to believe that his play will improve as the season progress. Obviously, with Connor's tendency to roll to that side (and the problems that come with it), it would be nice if Rico and Fullington could do a better job at sealing that edge.
Kristoff Williams. As Saturday showed us, when Kristoff catches the rock, he is a real beast for us. He's big, strong, fast, and represents the most likely candidate of all of our receivers to get 5-6 yards after the catch in traffic. At the same time, Kristoff dropped a couple of key throws on Saturday—the worst being the double hitch on the right side on 4th down in the first half where he forgot to get his hands up. If we're going to shock SC on Saturday, Kristoff is going to have to play a near perfect game. Let's hope he's up to it!.
Now to the Conference rankings after Week 1:
1. Oregon—Even if their opponent was terrible, they look as fast and furious as ever.
2. UCLA—Watching Hundley play makes me want to cry. Thinking that we don't have to play him for the next two years brings out tears of joy.
3. Washington—Sure Boise State was overrated, but at this point in time, their offensive skill players and pace gives them a nod over a Stanford team that I think could wind up being one of the major disappointments of 2013.
4. Stanford—When you're ranked 4th in the Nation, you can't be ranked lower than 4th in your own conference, can you?
5. Arizona State—Great QB. Great front seven on defense. Sac State will be lucky to keep this game within 50. Also, don't forget folks that ASU and Stanford play each other the week before we play the Trees. Hmmm….
6. USC—If SC can get by the Cougs and Arizona State, I think they're going to win the South. Problem is that a slip up against either one could send the season into another tailspin.
7. Arizona–Still hard to know where to rank the Mildcats because I don't believe in their defense. But with that RB stable of Carey and Jenkins, they may not be on the field much. They're definitely on my watch list for a team that could surprise this year.
8. WSU—Mind you, it's hard to know about how good Auburn is going to be the rest of the way, but I really liked the way our boys looked against a team of 5 star athletes. What I liked even more—I think we can play a whole lot better in all three phases. And we're going to need to in order to win 4 conference games.
9. Utah—Nice performance by their offense and QB last week, and while their D improved as the game went on, I have a tough time seeing them winning more than 3 conference games this year. I already have them penciled in for an L in two weeks against Oregon State.
10. Oregon State—Yes, they blew it again at home against an FCS team in their opener. But, their offense looked pretty good along the way. After a tough regroup, they're going to get put two and two together will be in prime position to continue our streak of losing to the Pac-12 team who lost to an FCS school (Oregon State 2011; Colorado 2012).
11. Colorado—41 points against any FBS competition is noteworthy. Mike Mac wins Coach of the Week honors for Week 1.
12. CAL—Pretty talented group that hung in there pretty well against Northwestern in the opener. Here's to hoping that they get their doors blown off the rest of the way. Man have I grown to hate CAL!
Okay, that's all the time I have for today. I'll be back Friday with my pick of our game—the rest of the fellas will do the same tomorrow.All for now, go Cougs.