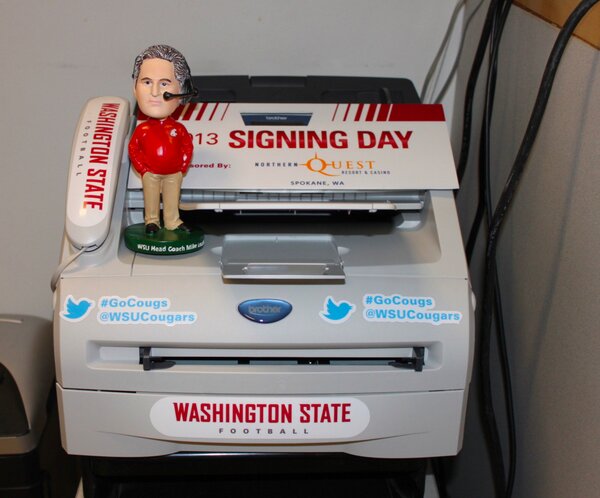 Good morning, Cougs and welcome to Signing Day 2013! As it's Hump Day, I had to at least chime in to say hello, but by some unfortunate series of events, I ended up being scheduled with an all day meeting on one of my favorite days of the year (at least the college football year). For the last couple weeks, I'd resigned myself to the fact that today would be void of surprises. Our Cougs had piled up the verbal commitments at a pretty high rate and looked to have just about a full class. Then the drama kicked in. First, there was the Myron Turner saga (for whatever reason, our staff pulled his scholarship offer just after his official visit and his high school coach got real mad). Next, there was the Chidobi Awuzie ordeal (reportedly, he committed, then waffled and the staff decided to quit waiting on him. Another offer pulled). There were plenty of near misses and it was looking like Signing Day would go out with a whimper. Out of nowhere, the Cougs picked up a huge commitment (literally) from Riley Sorenson and then our BFF's at Cougfan reported that Wazzu may now be the favorite to land the services of former Utah verbal Marcellus Pippins. Just like that, my usual Signing Day excitement was back in full swing.
The WSU Athletics official site has their usual signing day central where you can keep up with the LOI's as they roll in. My main man Longball should be along later to insert analysis as only he can (hopefully read, "afternoon drunk"). I'll be getting my leadership workshop on, then flying home from Portland, but I hope to join in the fun when I can. Here's to the class of 2013, a fairly random collection of teenagers that we're all counting on to make us happy. Go Cougs.
Longball's live updates after the jump…
WSU Football Blog LOI Day Headquarters
Longball here, I plan to do my best to post relevent updates here throughout the day as our LOI's roll in. I may take the occasional timeout to mess with the cats or watch some Perry Mason re-runs, but Im sure you understand. I also am nursing one helluva a wrenched back this morning, so if you catch me being unfairly critical of the fickleness of 18 year olds, its the back talking, not me. Got it? now I sound like Vince Grippi!
Anyway, on the the updates. So far we have received faxed commitments from:
Charelston White 6' 1" WR from Amarillo, TX
Darius Lemora 6' safety from Port Arthur, TX
Carlos Freeman 6'3" 290 lb OL from Oklahoma City
Vince Mayle 6'3" WR fromfrom Natomus, CA
River Cracraft 6'2" WR from Santa Margarita, CA
Matt Meyer 6'6" 290 lb OL from Lyndon, WA
Cody O'Connel 6'8" 350 lb OL from Wenatchee
Gerard Wicks 5'10" 195 lb RB from Long Beach, CA
Jamal Morrow 5'8" 180 RB from Menifee, CA
Isaac Dotson 6'3" Ath from Bellevue, WA
Cole Madison 6'6" 270 lb OL from Burien, WA
Peyton Pelluer 6'2" 225lb LB from Sammamish, WA
Paulo Lepua 6'3" 265 lb DE from Harbor City, CA
Gerald Sterling 6'4" 275 lb DT from Alicecille, AL
Riley Sorenson 6'5" 320 lb OL Santa Margarita, CA
Daquawn Brown 6' CB from Los Angeles, CA
Tyler Bruggman 6'2" QB from Phoenix, AZ
Danile Etuale 6'4" 290 lb DT from Pago Pago, American Samoa
Emmit Sua Kalio 6'4" 250 lb DE Pago Pago, American Samoa
Check out their highlights and other info here:
http://www.wsucougars.com/sports/m-footbl/spec-rel/13-signing-day.html