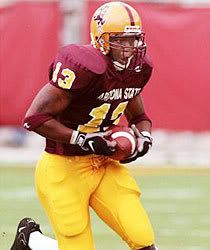 "Fright Night" Freedman… the ghost of Halloween past.
Talk about your worst nightmare… 16 years ago the greatest Cougar team of all time took a Halloween weekend trip down to Tempe sporting an undefeated record and an outside shot at a National Title. It was a whale of a game and included one of the great Cougar comebacks of all time as we erased a 24-0 deficit to eventually take a 25-24 lead. Then, Fright Night happened. When all was said and done we left with our first loss of the season and a mild case of shell shock from the crushing blows delivered by Sun Devil safety Mitchell "Fright Night" Freedman. The stars of that game, Ryan Leaf and Mitchell Freedman, have faded, both now residing in a jail cell. But for me the painful memories of that night have not faded. Not a Halloween has passed that I haven't thought of that game and "Fright Night" still haunts my dreams. A win tonight over the Sun Devils would go a long way to exorcising those demons. So lets let the blogfathers weigh in on what they think our chances are…
Longballs Locks:
On paper our Cougs find themselves as home dogs for good reasons. But this game is not played on paper. It is played on the Palouse at the end of October. The weather looks clear and cold, so don't expect any snow flurries to distract the Sun Devils from the business at hand. Also, while the students should make a good showing, the late night Thursday kickoff means you can expect a lot of no-shows in the South stands. STILL, you gotta think this is an atmosphere the boys in Crimson should be able to feed off of. Two years ago Conner Halliday stunned the Sun Devils at Martin Stadium and that game will be in the back of a lot of players' minds. Coming off a bye week and itchin for a fight, I expect the Cougs to be ready for this one. Hell, im throwing caution to the wind. Cougs BLOW UP at home and shock the Devils.
Cougs 42, ASU 28
Beavs 33, USC 21
USC hates playing in Corvallis! What is it about that place for the boys from Troy?
Zona 41, Cal 24
Cal is in a tailspin with way too many injuries.
UCLA 48, CU 17
UCLA is mad and taked is out on Ralphie.
Is that it for this week? Oh well, Go Cougs!
SeanHawk Sez:
Like a boss.
Happy Football Friday Cougs. Already at game 9 for this season, where does the time go? But here we are at 4-4, fighting for bowl eligibility of some kind. Just 2 more wins, somehow, someway, and the odds are good that the Cougs will receive a postseason invite to, well, somewhere.
First, let me apologize for something, and that's this – the lack of content around here lately has been, for lack of a better word….lacking. Why? Well, there are several reasons but honestly they just sound more like excuses than anything else. For you see, I believe that if you really WANT to do something, you will find a way. No matter how busy you are or what's going on, if you want to do it you will somehow, some way pull it off. And if you really don't want to do something? You'll likely find a convenient excuse.
I think it's clear that in the past few years, the "WANT" has been waning a bit around here and I'm not exactly sure why that is. I'm as guilty as anyone on the blog roll too, for the amount of content I produce of late has fallen off a cliff. I don't know what the future brings but things are certainly coming to a head on this here space as the season winds down and decisions will have to be made, one way or the other.
Anyway, enough of that. A good start by Longball above in talking about that 1997 ASU game in Tempe. I was actually in the stands that night, as my friends and wife-to-be made the trip down. It was quite a game too, and talk about a swing of emotions – being absolutely dominated for the first half, then to come all the way back and take the lead on the 2-pt conversion was just amazing. To be in the WSU section, making a bunch of noise while simultaneously looking around and seeing the ASU faithful collectively sitting down and shaking their heads in the section right next to us was something I"ll never, ever forget. For a section that talked a lot of sh*t for the first half, they sure got quiet in a hurry.
But alas, the wheels would come off as ASU made some big plays down the stretch, Ryan Leaf tried to force a few things late and that was your ballgame. I remember the flight home, feeling down in the dumps but then realizing that hey, the Cougs are still in great shape down the stretch. Basically it was an approach of WIN AND YOU ARE IN more than likely, as even with UCLA playing so well the Cougs still owned the head-to-head tiebreaker based on WSU's win over the Bruins earlier in the year. The Cougs would then pummel SW Louisiana in a strange, late-season OOC game, and then beat Stanford in front of the biggest WSU crowd ever (reportedly 40K, including some standing room only). And of course, we all know what happened after that on that glorious afternoon/evening in Seattle…
Mike Price and Team Gleason in much, much happier times
So you just never know what the future holds.
On to the games:
Beavs 28, SC 17 – OSU bounces back a bit. But for the first time, there may be some doubters on Sean Mannion? I read an article earlier this week about some NFL scouts raising some doubts about his performance against an "NFL" like defense in Stanford, and that there may be some warts there with 1) consistent pressure from the pass rush, and 2) worries about his arm strength and his ability to hit the "NFL" type throws on a consistent basis. So maybe he's more Sean Canfield than Andrew Luck at this point?? Anyway, I still see the Beavs doing what they do to SC in Corvallis, and that's win.
AZ 55, CAL 17 – It's pretty clear that Cal is the worst team in the conference and it's highly doubtful they will win another game. Meanwhile AZ runs ALL OVER the weakening-by-the-day Cal D and it's a huge day for the Mildcats offense in this laugher.
UCLA 34, Colorado 20 – I think the Bruins will pull away late, but CU will put up a pretty good fight in this one. But in the end they don't have nearly enough, and as Longball pointed out above, the Bruins are probably pretty pissed after consecutive losses in the Pac-12 gauntlet known as Stanford & Oregon. But still, like Sean Mannion, maybe some concerns are starting to rise over Brett Hundley and his performance against the elite teams as well? Not that it will matter this week though.
Finally, ASU – WSU.
I know I have taken a little bit of heat or whatever this year when I haven't picked the Cougs to win, especially the OSU game. Some had said I have very little faith or something like that. But I think above all else, I am 1) a Coug fan, but 2) I try to be as realistic as possible when I make an actual pick. Not that it matters, I mean it's not like I'm a Vegas wise guy betting his mortgage on the outcome of college football games or anything like that! But I do feel like I have a pretty good handle on the Cougs this year and I've only missed the USC game thus far in trying to decide if we will win or lose.
I think the easiest thing to do is to try and look at this one with as much distance as you can from the Crimson-colored sunglasses and look at it for what it is. The Cougs are not really stopping anyone lately on defense, and while we can argue on the interwebs about whether or not that's Halliday's fault for trying to do too much or Leach's fault for being too stubborn calling the offense, well, in the end the results are that the offense is good-but-not-great in scoring points, and lately the defense has been bad in keeping the opponent out of the endzone. For the D has now given up an AVERAGE of 56 points and 626 yards in WSU's last 3 losses(!?!?!). I know, those games were against three of the better teams this year in the Pac-12 in Stanford, OSU and Oregon. And there were some pick-6's in there as well. But no matter how it's broken down, at the end and from a distance that's a lot of yards and points my friends.
And quite frankly after watching the way ASU's been moving the ball and scoring points themselves lately, well, I'm not real comfortable with this one. While WSU has given up an average of 56 points in the last 3 Pac-12 losses, did you know that ASU is averaging 56 points in their last 3 Pac-12 WINS??? That's 62 points vs. SC, 54 vs. Colorado and 53 vs. UW. Granted those were all home games, of course, and ASU lost at Stanford earlier this year on the road and also dropped the game in Texas vs. Notre Dame. And that SC game, well, that was the players parting gift to Lane Kiffin, ala WE QUIT ON THIS GUY more than anything else??

But that's the biggest problem folks. I don't believe the Cougs will be able to slow down ASU's attack. They can beat you on the ground or through the air, and Taylor Kelly is playing at a pretty high level right now. Without a consistent pass rush, I just don't have confidence on that side of the ball. I do think we'll see WSU put the ball in the endzone, and probably eclipse the 30-point mark. But I just can't see the Cougs hanging the L on this ASU team, as I don't believe the D can slow them enough over 4 quarters. I think it will be close for the better part of 3 quarters, but in the end, the Devils pull away late and win it in a typical Pac-12 shootout, 51-34.
All for now. If you are heading to the game tonight, have a blast and enjoy it! GO COUGS!