Stay Classy
Greetings Cougs, and a happy Tuesday morning to you and yours. Now that we're all fully back in the saddle and all that good stuff, something dawned on Sutra and I the other day. If we are going to do morning links-n-such again, we need to roll with a cool title or tagline or something, know what I mean? Our good friends at CougCenter have "Hot Cougar Action", and if you are up early on Twitter and you see a post with that title? You know what it is. ESPN has Pac-12 Lunch Links, SI.com has AM/PM Hot Clicks, etc. So we need to come up with something like that around here (not COPYING our good friends at CC, but, you get the idea!). Some ideas that came up:
The WSU Morning Grind
Cougar Morning Grind
The Coug Daily Reader
The Cougar Morning DRIP
WAZZU MORNING DRIP
STAY CLASSY PULLMAN – Morning Links Edition
GOOD MORNING PULLMAN! (not really)
WAKE UP PULLMAN! (also, not really)
Anyway, any thoughts or ideas, please share in comments.
On to the links-n-such for a Tuesday…..
Bill Moos did his Monday radio show yesterday, which you can catch here. Moos had some good things to pass on, but the real "meat on the bone" here is the Marquess Wilson situation, as well as the Austin Seferian-Jenkins issue from after the Apple Cup.
Moos reported that he finished up the first draft of the WSU report on Marquess, and then he's guessing later this week or sometime next week that it will all be wrapped up and delivered to President Floyd. While he wouldn't go into too much detail, he did say that the Pac-12 actually outsourced the investigation to a law firm as this just isn't something they normally do. We'll see what happens, but the buzz sounds promising at least right now in the speculation that there probably won't be much that comes of this.
It's still a very disappointing situation for all involved. Sutra touched on this last week, that it would be a great thing if somehow Marquess could come back in the fold. And I guess with all things being equal, that could be a good thing. But it sure sounds like that ship has sailed, and it will be good for everyone to have this whole thing in the rear-view.
Moos touches on why it's important to get the investigation over with for a variety of reasons, but RECRUITING IS HOT right now! 21 commitments and some high-quality guys, and you just want to get this all squared away. Moos said that they are in the mix for a 5-star player he just talked to (Chris Martin perhaps?) and they are coming hard after some O-linemen (hooray!).
On Seferian-Jenkins, Moos said that the investigation is over and everyone has kind of moved on from it. In other words, the investigations are basically over. Howie Stalwick has a good article over at Cougfan with more details, so you can check that out here. I know a lot of people have already weighed in on the whole thing, and we're right there with the vast majority of the opinion that it was a stupid move to even consider hitting or shoving a player on the field. I know there have been a lot of stories that have come out in the last week or so since the whole thing happened, about how this kind of thing is more common than people realize. But I guess it's a risk for all involved when you step on the field as a fan. As much as Seferian-Jenkins went down in that situation, it could have easily gone the other way if he saw that idiot coming! Go ahead and storm the field, but proceed at your own risk.
Moving on in the audio department, WSU great Drew Bledsoe went on the airwaves of KJR last week, after the WSU Apple Cup win. Bledsoe talked about his Coug roots, his past in New England, etc. It was a GREAT interview, and unfortunately I cannot find it online!?!? I heard it live, but I guess Mitch Levy is picky about what he archives/podcasts? If you can find it online, please share the link.
Anyway, as many of you know Bledsoe was at the Apple Cup and was very happy with the outcome, even though he hung around with one big, angry Husky: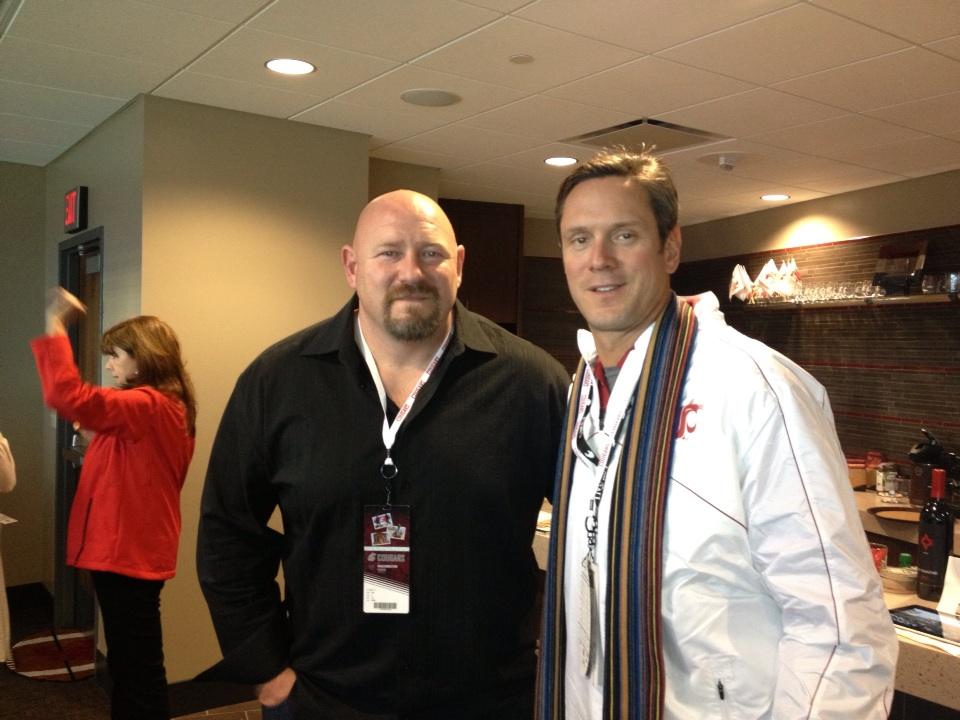 Two Eastern WA legends, two #1 NFL draft picks in back-to-back seasons – Bledsoe and Emtman
It was cool to hear Bledsoe with Mitch Levy and Hugh Millen, talking football. But one thing that really stood out? Levy asked Bledsoe of what he thought of the Mike Leach offense in Pullman. While I cannot remember the exact quote, Bledsoe said what he liked so much about the offense and the strategy involved is that it makes defenses defend the entire field. You can't just focus on one specific area, or even one specific player, as a defense. And it kind of goes with the history Leach had at Texas Tech, with the whole interchangeable parts on offense.
You really think about it, I guess we kind of saw it vs. UCLA and vs. UW at the end of 2012. With two different QB's, and without arguably the most talented offensive player on the team and one of the most talented WR's in school history, the Cougs scored a combined 67 points, with 893 yards of total offense and 54 first downs(!), against two ranked opponents. This with Connor Halliday playing the majority of the UCLA game, and Jeff Tuel playing the entire Apple Cup, and yes, all without Marquess Wilson.
And best of all, if you look back at the numbers at Tech, it's kind of startling about how consistent the offense was even without the superstar NFL type QB or tons of NFL guys all over the field in general. For example, in the history of the NCAA, did you know that Mike Leach's QB's at Tech have five of the top 15 passing yardage seasons of all-time? And of those five passing yardage seasons, they are all different names of guys who never really went on to NFL glory in any way. BJ Symons in '03 and Graham Harrell in '07 are the #1 and #2 record holders in a single season, both Tech guys and neither have done anything at the next level. And then you see names like Kliff Kingsbury and Sonny Combie, I mean any of those names do much for you?? Kingsbury is a coach now, but really none of those Tech QB's ever went on to NFL glory.
The point of all that is it makes you kind of realize that once they pick up this offense after some time with the system, you realize that it is possible to plug-n-play with different players and still get the job done. As Bledsoe said in that interview, you can't just focus on taking one guy out of the game, or even just focusing on defending a specific area. You have to account for everyone, everywhere, and that's when the fun begins! And vs. UCLA and also UW, you can see some light shining though here and there?
That's it for now. Enjoy your Tuesday, and GO COUGS!