Hello Cougar Nation! A most excellent Thursday to you all!
Today, we mark the start of a new era; one that will heretofore be known as "Khan-Tucky Fried Thursday." Suffice to say, this feature will run on a semi-regular basis, meaning, it will run until such time that the season starts or I get fired from this blog for the 7th time in the last four years.
Anywho, today I am en route to the mighty west coast, ready to feed some "knowledge" about Finite Mixture Modeling (Unfortunately, I'm not kidding about this) to a bunch of fellow super nerds at a conference.
So, in the spirit of getting all academic on the American people, I thought it appropriate to insert a bit of disciplinary lingo into today's title…..
For more on that, read on…
Nation, in the coming weeks, we will start to witness a variety of pre-season Top 25 polls. While each of these polls are exciting to sports dorks like myself—particularly when my team is included in them—they're also often pretty clone like. Meaning, notwithstanding a few important outliers, these polls tend to look increasingly the same as May becomes June, as June blurs into July and so forth. The reason? Many of the CFB pundit folk not named Miller or Condotta tend to rely on the opinions of others in lieu of forming opinions of their own.
(As an aside, this is one of the primary reasons why I never read. Some think that makes me uninformed, but I prefer to view myself as a practicing expert of irresponsible originality)
Of course, this tendency to co-opt the takes of others is problematic for several reasons. But chief among them is the fact that relying on the "word" of others often means ignoring the nuances of each team's schedule, including how a tough loss here or there can significantly impact the way that a season unfolds. For example, if their early season schedule was properly evaluated, I believe that a certain school from Western Washington would NOT be ranked in ANY pre-season poll!!!
++++
Anyhow, notwithstanding the Muttlakes to the West, we all have seen how one unanticipated hiccup can really ambush the fortunes of a pretty good football team. I mean, twice in the past six years, CAL
has taken a No. 2 ranking into a contest against one of the Oregon schools and has proceeded to all-but lose out after falling to the Beav-Quacks.
Similarly, Oregon (with Dennis Dixon hurt) and Arizona (which started the end of Ole Yeller) both turned 6-1 starts into 7-5 finishes in recent years. And, last year both Arizona State and Washington took 6-2 starts and top 25 rankings and proceeded to all-but flush the rest of the season right down the drain.
Of course, those choke jobs occurred with programs that had been to bowl games within the previous two seasons; SELDOM do we witness the type of miracle, season-saving comebacks that we saw two years ago when the Muttlakes survived three straight do-or-die weeks en route to turning a 3-6 start into a 6-6 finish. And the reason why such an end of season surge is so uncommon for bottom feeders is that the psychology of those teams is just much more fragile than it is for winning programs. Simply put, teams with histories of losing usually need to gain senses of confidence and competence early on in the season if they are to truly turn things around.
Which bring me to the "meat" (cough! cough!) of today's rant…..
++++
At the beginning of last year, we here at the WSU Football Blog were resolute that the key to the season rested on two key swing games. The first of those games was against the San Diego State Aztecs, and the second was to the UCLA Ruins.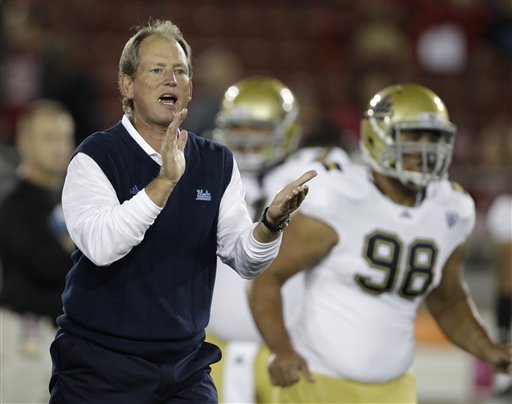 Of course, in both of those games, we entered the 4th quarter leading the football game. But, because we ultimately lost both of those games, all of the remaining potential/quasi "winnable" games left on the schedule (Oregon State, California, Washington/Utah) became "must wins" just to become bowl eligible.
So now, as we look forward to the 2012-2013 season, we can see that the schedule once again shapes up for a favorable start. UNLV once again figures to be significantly less talented than ourselves, Eastern will pose little problem to us in the second half, and Colorado, though improved, still figures again to be a bottom feeder, made even more vulnerable by the loss of their All-Conference candidate WR to a season ending ACL injury. In other words, win the games that are the near "gimmes" on paper and this team is half way to bowl eligibility after the first four games alone!
From there, well, we have the Oregon game, which Bud Withers recently described as "intriguing if not richly competitive." And then we have Oregon State, the game which two years ago signaled the start of Wulff's resurrection, while last year signaled the near certain end of his demise…
Of course the point in all of this is that there are two games on this schedule which figure to mirror our games against San Diego State and UCLA. And they are the road opener at BYU and the Week 6 roadie against Oregon State. Mind you, both BYU and the Beavs figure to be improved football teams this upcoming year. But, their improvement aside, we really shouldn't kid ourselves: BYU got PASTED 54-10 by their instate rivals (Utah) last year and would probably be picked to challenge WSU and OSU for the basement if they were in the Pac-12 North. Oregon State, though potentially bolstered by a strong secondary a decent D-Line, not to mention a quarterback and WR with a strong upside, should not be confused with an upper division threat. In fact, even folks who think the Beavs will be much better this year
are thinking about measuring the Beavs' potential success within the context of a lower tier bowl.
Now, will we win either of those two games this fall? Well, that's for a future post. But suffice to say that we will HAVE to win one of those two games just in order to become bowl eligible. And, while winning both is certainly no guarantee of anything, a 5-1 start coupled with Leach's mystique will signal that a November to remember on the Palouse is forthcoming.
And for a program which has 7 wins the past three season, that prospect alone is reason enough to celebrate.
All for now. Go Cougs!