Hello Followers. Hope you had a great weekend.
Normally on Monday we have SeanHawk doing one of his wondrous, video-laden practice recaps.
Unfortunately, he is out of commission for a few days, leaving me and the rest of the idiots to "house-sit" while he's gone.
So, for a few VERY quick Spokane Week thoughts, read on.
++++
We start today's hot-link action out with the recent feature on Grandpa Bill Doba by the venerable John Blanchette.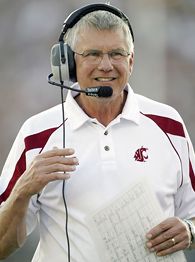 For me, three points emerged from the article: (1) Doba is still a great guy. (2) Its hard to believe that we haven't been to a bowl in nearly ten years; (3) Its hard to believe that Blanchette actually made it seem like Wulff was lying when he said he took over the worst program
in America.
As our very own Longball will tell you (especially if you buy him a beer on Saturday), that 2008 group that Wulff inherited, especially when injured, would have struggled to finish in the top 3 in most 1-AA conferences .
That all said, feel free to throw out your favorite and/or non-favorite experiences with Grandpa Bill.
Moving on, Brian Floyd, lead scribe for our almost BFF's at Cougcenter, had a nice practice re-cap over the weekend, replete with video's and a lot of bulleted remarks that look so much cooler with that SB Nation formatting than what I can muster with the Penguins.
Anyhow, don't know about you all, but I remain a bit surprised that the D is actually holding their own this spring, injury issues to our offensive
line notwithstanding. A couple of additional thoughts from the littany of practice re-caps out there on the internets:
1) Is it just me, or are any of you starting to grow increasingly concerned with Kristoff Williams' health issues? I mean, doesn't it seem like just when the kid starts to really turn heads he winds up on the DL and/or the exercise bike? In any case, here's to hoping that Kristoff heals up in time for Saturday because I have been really looking forward to hearing about him, especially how that big NFL body looks and functions in the Air Raid.
2) Are any of you growing concerned about Jeff Tuel's performance so far this spring? Me neither. But, when I see a 47% completion rate to go alongside 200 yards in nearly 50 attempts, well, I wonder what is going on. While I am hoping that his struggles have at least something to do with the Hair Raid defense, part of me is fearful that our WR's still haven't learned to be physical enough to get off the line. (Remember how Stanford and Oregon State just JAMMED us last year?)
++++
Beyond that, a few additional questions for you as we head into the meat of Spokane Week:
1) Who has been the biggest surprise for you so far this Spring? And relatedly, if you're going to the game (and our tailgate) this weekend, what aspect of the team are you the most excited about seeing?
If I was going,( shame, shame, SHAME on me), I'd be the most interested in watching the play of the lines, especially the play of Rico
Forbes who I think needs to be a major contributor for us this year. I'd also really like to see how the Running Game and the Running Backs fare in the Air Raid offense. And, on defense, I'd like to see how Eric Oertel looks in person, especially how fast he plays around the ball.
++++
Okay, that's all for today. Longball will be back tomorrow with his Road Warrior series. And of course, we'll have more details on the tailgate as the week moves on.
Go Cougs!