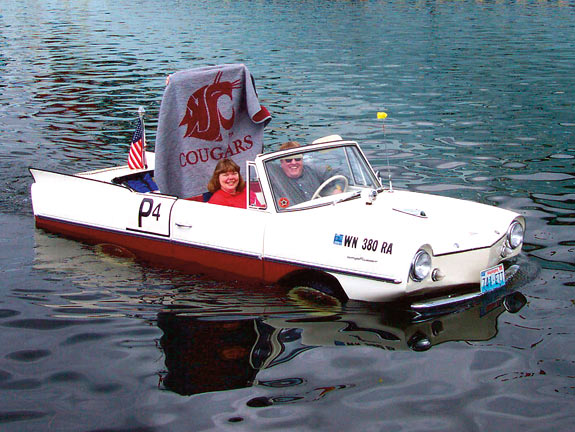 Tailgating, Elliot Bay Style.
Our next edition of the WSU Football Blog's Road Warrior Guide takes us to the town known alternately as the "suicide capital", the "rainy city", or "serial killer-burg"… ok, so maybe i made that last one up. Of course I'm talking about Seattle which, in addition to the dark and gloomy things already mentioned, is also the home of the University of Washington. It's amazing that a city with all of these deeply disturbing problems still manages to be a rather nice place to live and/or visit. We'll get to that, but first I must say for the 1000000th time, I hate this game. the Cougs will be "hosting" Oregon at the CLink in what promises to be another uninspired effort in front of a crowd the visiting team will find quite welcoming. A concise preview of the game, plus some tips for enjoying this trip anyway, after the jump…
The game will be a rather lopsided affair featuring a raucous and LARGE contingent of the away fans drowning out the golf claps and gossiping from the soccer moms and insurance salesman dads who drove down from Lynnwood, but have to leave just before the half to get the kiddies home before they get crabby. Sure they took a shot in the parking lot just like the good ol days back on Colorado street, and that ought to power them through the first rendition of the fight song and a shark attack or two. But come the start of the second quarter, they won't even be watching the game any more. You will find more passion from the "home" fans in Safeco at a late season Mariners/Orioles game when both teams have emptied the farm system desperate to create some hope for next year. In a season when the Ducks have national championship aspirations, this scheduling clusterf&%!ck is a straight-up gift. No matter what their cocky fans tell you, the Ducks want nothing to do with coming to Pullman, and thanks to their former AD, they won't have to. Happy birthday, Quackers.
This will be fun.
Whew. So yeah, thats what I think about scheduling "home" games in Seattle. Fortunately, despite the game itself, your visit can be worthwhile if you make time to enjoy Seattle's charms. For your convenience I have drawn up a quick and easy-to-reference Do's and Dont's list to help you make the right choices. We've had enough negativity in my screed about the game, so lets start with the "Do's", shall we?
A few things you may be tempted to try, but would not get my recommendation are:
Pioneer Square – People who live in Seattle don't go to Pioneer Square. If you want to hang out with a bunch of peach vodka swilling rubes from the burbs, Pioneer Square is perfect for you. Just use protection, mmmmkay?
The EMP – I actually think everyone should go to the EMP at least once, but I just cannot recommend it as one of Seattle's premier destinations. Want music? Just go to a show. Between the Showbox, Crocodile, Triple Door, Tractor Tavern, Chop Suey, Neumos, and many many more venues, somebody is going to have some great live music for a great price.
The Space Needle – The view is spectacular, fair enough. But the time and money you'll spend could be put to better use. Also, DO NOT under any circumstances, eat at the revolving restaurant. Just don't.
The "U District" – Ok, so maybe I'm not being fair. Who cares, its a rivalry!
Fun random factoid; Seattle happens to be the cuddly monster capital of the world. Here are a few of the lovable monsters that have made Seattle their home:
Sasquatch!
The Wheedle!
The Freemont Troll!
Paul Allen!
Since Seattle is one of the 2012 road destinations many of us are very familiar with, I expect a lot of amendments to this post in the comments. And remember, we have a lot of Texas fans now, and it's our responsibility not to lead them astray. I look forward to seeing you all at the Spring Scrimmage this weekend in Spokey (should I have done one of these for Spokane?) and tune in next week as our caravan pulls into Corvallis for a hot date with some feisty Beavers.
Until then, GO COUGS!