Happy May-Day Cougs, as the calendar flips to a new month as we keep a watchful eye out for the good weather that will hopefully accompany getting out of April. Something, something, something, May flowers?? Anyway, in the Coug universe it's pretty much the start of a long, cold winter of football news. Spring ball is in the rearview, and aside from some recruiting offers here and the occasional run-in with local law enforcement, football blogging this time of year amounts to a barren land devoid of all life….
But somehow, we'll manage. It may not be life-changing content or 10,000-word essays on what WSU Football means to us, but we will power through it.
So, now that the 2012 NFL draft is history, it's time to start thinking about 2013. Ted Miller already has you covered with a quick glance at the Pac-12's top pro prospects amongst the top 30 for next year, and Bucky Brooks at NFL.com has this look at the top five prospects for each position. No, there isn't a WSU player to be found, but overall the Pac-12 North isn't represented all that well, with just a couple of Ducks and a Beaver on the lists.
From a WSU P-O-V, naturally Jeff Tuel and Marquess Wilson come to mind. After all, it's only May of 2012 right now. Who's to say they won't have big years in the Leach system, and that could possibly catapult both players up the lists? And for argument's sake, I am ASSUMING that Marquess throws his name in for draft consideration after this year, and would lean hard that this is his last year in Pullman. Have I heard whispers that this could be it? Nothing concrete, for sure, but if he blows up in 2012 and continues to improve, why wouldn't he go for it? I would love to see Marquess make it through four full years, just to see the silly numbers he would finish his career with after possibly two full years in the Leach system. But that's just me being a selfish HOMER fan, not looking at the bigger picture. You have to grab the brass ring when you can, and if Marquess finishes 2012 healthy and coming off a big year? CASH THAT CHECK young man!
Remember, Chris Polk at UW actually could have gone pro prior to the 2011 season as a third-year sophomore, and he still had some health on his side after a big 2010 season running the football. Hindsight is 20-20 and maybe there were a lot of questions about Polk prior to 2011, but you have to wonder if he would have gone prior to his second shoulder surgery for his labrum a year ago that someone would have grabbed him? Polk did sign a free agent deal with Philly so he has a shot to make the league, but the moral of the story – if you are still healthy playing this game and it looks like you could be a 2nd or 3rd rounder, I say you go and get paid already! It's all about tread on the tire, and once it's worn down, it doesn't magically come back as you age/get beat up/etc.
So where do Marquess Wilson, Jeff Tuel and even Travis Long stack up right now, taking a LONG look into the future?
I know it's SUPER early, and yes, things will change rapidly between now and next year. But NFLDraftscout.com really likes Wilson, currently rated as the #3 WR for his class. But that's projected for the class of 2014, not for next year. They love him if he stays for his senior year (and of course, stays healthy). But we know the opinion from many analysts is that Marquess is the most important player for WSU heading into 2012, and while some will definitely argue that it begins and ends with the QB, it's hard to imagine the offense doing a ton of great things without Optimus Prime doing his thing. The spring game was a sledgehammer reminder of how special the kid can be, and how he finds an extra gear in "game" situations.
Jeff Tuel they kind of like, ranking #9 for the QB's heading into the 2013 draft class. While Tuel looks like he's poised for a big senior season (unless he gets that medical redshirt??), injury questions are probably going to dog him as they did Chris Polk. Tuel has taken a beating folks, there's no way to sugarcoat it. And while Leach's system is great for keeping the sack numbers down, you have to wonder what NFL execs will think when they look back at Tuel's injuries. Would he be worthy of a higher draft pick given all the time he has missed over the years? He's got the size (6-3, 223), quickness (reported around a 4.7 40-time) and has shown off streaks of really good accuracy and arm strength. And we certainly know about how QB-starved the NFL is, and how teams will reach for a QB who looks the part. From Blaine Gabbert last year to Ryan Tannehill this year, if you have to so-called "upside" with measurables the NFL loves, you have a great chance to get picked.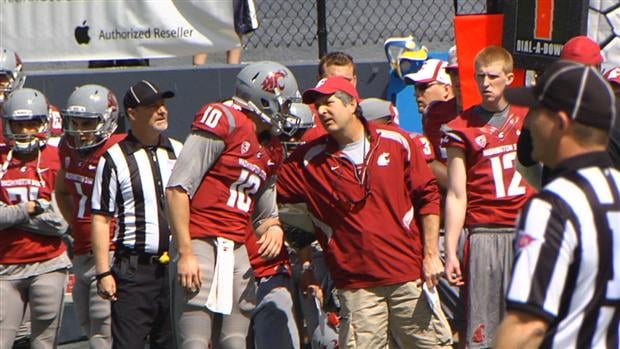 But oh, that injury history. Broken collarbone, acute compartment syndrome in his calf, to a hip injury back in his frosh year, it just ain't pretty. Here's to knocking on wood, plastic, or anything close by, on Tuel staying healthy and having a huge 2012!!!
Finally, Travis Long. NFLdraftscout.com has him as the #9 rated D-end for the draft class of 2013, and that's actually a little higher than I would have thought before I took a glance? What's interesting however is how Long adjusts to his new role in the WSU defense. If he can show the true ability on Saturdays to rush the passer yet also drop into coverage and produce, he could have a bright future as a 3-4 hybrid linebacker/D-end. He has the size to do both at 6-4, 256, and there is very little doubt about his strength. I was pleasantly surprised by watching him move at the spring game, and although I never thought he was slow? He looked considerably quicker than I remembered, and he seemed to be all over the field and in the middle of everything. I sure can't wait to see how he produces in his senior year, and would sure love to see him take his game to the next level.
ONE LAST THING today, and I'll leave you with this NERDGASM ALERT – THE NEW DARK KNIGHT RISES TRAILER IS OUT! Check it:
FANTASTIC. It's dark, it's kind of chilling, it looks and sounds both amazing and sad, all at the same time. Bane looks total bad-ass, and it sounds like they have cleaned up his voice from the last trailer (there has been speculation that was going to happen after he was hard to hear in the prologue released in December). I know people were mixed on Anne Hathaway as Catwoman but I think she's going to kill it. They have been teasing all along that the legend "ends", and with Batman you have to wonder if this is going to be it. Will Chris Nolan go all the way and kill the Dark Knight, after he's given them everything?? All I know is I can't flippin' WAIT get my Batman geek on July 20th!
All for now. Enjoy your Tuesday, and GO COUGS!