Happy Saturday to you Followers. Hope your weekend is off to a great start.
Well, after a week from HELL trying to find a car to replace my beloved beater…..
I am now ready to hit the keyboard to write and think a bit about the Cougs. So, if you want to check out a few pre- UCLA related thoughts, then please click on the jumperoo.
++++
Followers, if there's one thing I've learned in my little, teeny, tiny life of world domination, it's this: You gotta know the games to bet on, and the games to avoid at all cost.
And truly, when you look at this game from a Vegas Perspective???…
Well, just run for your life…
I mean, we all know that UCLA is a really good football team. But let's face it: Are they anywhere as good as they looked last weekend in throttling a pretty dynamic Arizona team? Ah Hell No!
And then you look at us, I mean, we all know that we're not very good. But doesn't anyone think that we're really 43 points worse than Utah? I sure don't.
And then you have this thing called Mother nature that has threatened to make this game IDENTICAL to the game we played at this exact time last year against an Arizona State team that also had lots of Pac-12 South title aspirations.
In other words, DO NOT BET ON THIS GAME!!!!!!
++++++
That all said, there are a few good reasons why I think we should all be prepared to really get the wood handed to us tonight. And that reason has EVERYTHING TO DO with the Hair Raid defense and its formidable leader, Michael J. Breske.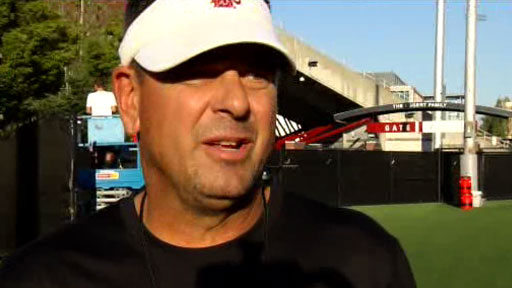 "I really like defense and that type of deal."
You see, outside of the Oregon State game, we've pretty much been hammered by any team that has hit us with some semblance of offensive balance. I mean, Colorado scored 35 on us, Oregon 52, Cal 31, Utah 49–those were all teams that were able to run AND throw the ball.
Unfortunately for us, our next two opponents are really good at doing just that. And so, if we're going to have any chance of matching last year's win total, we're going to have to do what we did against Oregon State and Stanford and that is to really stiffen up in and around the redzone. In other words, because we're going to give up yards tonight–lots of them–the key will be whether or not those drives result in touchdowns or field goals? If its the latter, we'll be in the game. If its the former, we're gonna get lit.
So, rather than give you a set of keys to the game, I'm just gonna give you one. And that is:
TWENTY FOUR POINTS.
Hold UCLA to 24 and we'll win tonight. More than that, and the nightmare season will continue in earnest.
Personally, when I look at Franklin, Fauria, et al., I see a team that we cannot and will not match up with.
Our only hope is for the Baby Blue Bruins to lay down in the cold–and I just don't see that happening with all that they have at stake.
Bruins ruin a very, very cold Dad's Weekend 52-17.
All for now. Go Cougs.