Hello Followers. Click on the old jumpavegas for this morning's look at the Wide World of Sports.
+++++
Followers, as we head into yet another off-season, its important to remember that, at times, creating content is like trying to grasp a single grain of sand…
So, rather than try to delve into all things Cougar all the time, it will occasionally be necessary to expand the lens a bit. With that in mind, here we go…
+++++
Don't know if you caught this, but it appears that Nicholas Holt landed the coveted Defensive Coordinator position at Clemson University. In case you missed last night's hot BCS action, Clemson got nipped last night by West Virginia in what was a real squeeker. The final score: 70-33. Of course, those of us in the NW know the direct implications of this final tally: Clemson just gave up a DC who surrended 70 in a bowl game for one who just gave up 67.
Whatever happens with our DC search, one thing is clear–Clemson has set the lowest of low bars…GO TIGERS!
Speaking of offensive defensive searches, it appears that Mike Smith–the man who was rumored to come in as our linebackers coach–is going to stay with the Jets to fill the same role. While it is not hard to see why Smith would choose coaching for the Jets over the Cougs, this most recent development appears to provide another signal that our search for a defensive coaching staff has hit a bit of a snag. Personally, I thought that the hiring of Smith signaled that we were bound to play a 3-4 this season. Now, I'm not so sure. In either case, it sure looks like our search for a defensive coordinator has moved from Plan A to Plan C, D, or even E….
Given his success at Boise State, it probably didn't come as much of a surprise to many of you that Chris Petersen just inked an extension to his existing deal. The total dollar amount? About two million per. Not bad for Boise, right? What was surprising to me, however, is the extent of Petersen's success with the Broncos. I mean, did you know that his record at the school is 73-6? Let me say that again: Did you know that Chris Petersen's record at Boise State is SEVENTY THREE AND SIX?????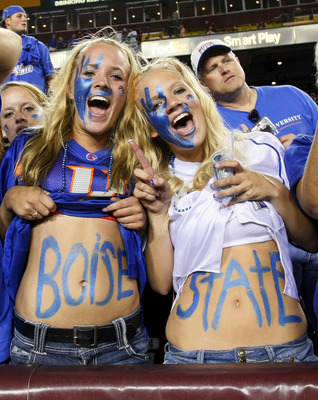 Notwithstanding the lack of elite competition in the MWC and the WAC, its hard for some good coaches to have that type of record against air.
Tonight, our Cougies open the Pac-12 road slate against a catastropically bad Utah team and then close on Saturday against bottom third feeder, Colorado. Personally, I'm thinking that we gain a Huddy this weekend, but a sweep sure would be great. I mean, win both this weekend and we should be sitting in the conference's five hole, with a trip to Seattle and a battle for first place set for next week. While I am not holding my breath with this crew, I remain cautiously hopeful that we can find a way to finish in the upper tier of the conference. What's more, with a host of NBA defections forthcoming for the Christian Caples, we just may be positioned to steal back state dominance in Hoops in the next year or so…
Finally, have you heard about the recent news that the M's may be in the hunt for Prince Fielder? Me neither.
Don't know about you all, but while the Presidential Race is starting to really heat up, I am involved in a race of my own: The campaign for chairing the "I used to care about the M's but now don't even check the scores" club. Color me interested the moment that Abraham Lincoln is no longer chairing the M's front office.
Okay, that's it for today. Hopefully, the Khan will be here tomorrow.
Until then. Go Cougs!