So with our second "finalist" for joining our team, we have Jason Crigger. Jason is a long-time Coug who graduated from WSU with a degree in sports journalism, and definitely has a lot of passion for the Cougs! Jason's entry focuses in on the hoops team, after their OT win at Santa Clara.
With that, we present entry #2, Jason Crigger:
With all the Christmas spirit going around, Santa Clara almost played Scrooge to Washington State, as the Cougs were able to squeak out an 85-79 victory last night.
Now, I don't know if the Cougs were already dreaming of a White Christmas or not wanting to be naughty to "Santa" Clara, but there should be many things that the Wazzu faithful should take into consideration when analyzing last night's squeaker in Santa Clara.
It's pretty evident that Washington State is going to go as far as Klay Thompson takes them. Sure Klay filled the stat sheet with 23 points, seven rebounds and six assists, but he did that on 5-16 shooting while committing six turnovers. Thompson was having a pretty rough night and in a flashback to last year he was visually frustrated multiple times, talking to referee Bruce Hicks on more than one occasion and slapping his hands on the ground after missing what would have been a go-ahead 3-pointer with 27 seconds left. However, in typical Klay Thompson fashion he came through when it counted by draining the game tying 3 ball ten seconds later to send the game into overtime, where the Cougs proved too much for the Broncos.
A little off-topic here (and it pains me to say this because I hate comparing any team to a rival especially a team like Gonzaga) but this year's Cougars remind me a lot of dun-dun-dun….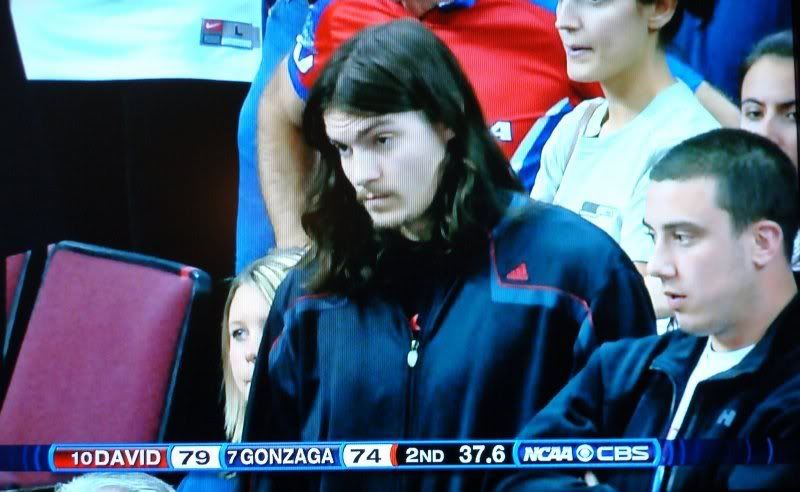 One guy who has to show up nightly for his team to win, but can expect to get contributions when needed. With that said though Klay > Adam Morrison.
Anyways back on track!…..
But Jason, the Cougs won in overtime against a now 6-6 WCC team, when Arizona beat them by 23! And WSU ONLY beat Texas-Pan America by 22! What's going to happen during Pac-10 play?!
Fear not fellow Cougs.
Quickly think back to last season when the Cougs routinely found themselves on the losing end of games such as these. Klay struggled and the team looked half asleep for the first 30 minutes. Last night's game was one which Wazzu obviously didn't play their best ball of the year.
The resiliency this team showed after being down by 10 with ten minutes to play is something to build off of. I don't care who the opponent is or what the situation is. Being down by ten to ANY opponent in the second half and coming back to win is something the team can look back on (in say Pac-10 play) and know that they have what it takes to come back. Plus does anyone in their right mind think Santa Clara will go 33-36 from the line again this year?
Faisal Aden had arguably his worse game in a Cougar uniform, but was picked up through the efforts of DeAngelo Casto and Reggie Moore (15 points), and Marcus Capers (14 points including 5-5 from the field) was his usual Mr. Everything.
The above mentioned players are going to have to be Klay's support staff when he struggles which will happen again at some point this season. The Cougs have shown that when Klay has an off night there will be someone to pick him up, which makes them very, very scary because at any given time someone else is capable of carrying the team for a period of time.
So relax Coug Fans, yes it was painful to watch/listen to at times, but in the end the team that should've won did in fact win. We should all be gearing up for the Diamond Head Classic where we should see the Cougs continue to grow as we gear up for Pac-10 play.
Have a great Holiday season and Merry Cougsmas to all!
Thanks for that Jason. We should have a couple more posts the rest of the week with the remaining finalists. As always, GO COUGS!