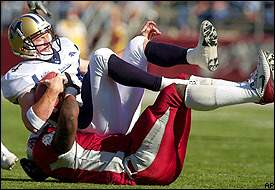 Good afternoon Cougs!  This post is brought to you by a regular reader of the blog, none other than "WSU91″, or Matt Wessel as he's known around the house.  Matt has this take on the MSU-WSU game, and wanted to share as it's own post, not simply via another comment. 
On a side note, please know that if any of you ever want to do your own post/contribution/whatever, you are more than welcome to submit something for consideration.  Just send an email to wsufootballblog@yahoo.com, and we'll go from there.
Matt has contributed once before, looking at WSU and comparing the Cougs to Cal last year.  With that, here's Matt's thoughts on Saturday's game.  Enjoy:
The puzzle that is the Montana State game – One Man's Opinion
Concerning the Montana State game this Saturday, let's think about the two possible outcomes (ruling out a tie, of course).
We win the game – This proves that the Cougars can beat an FCS team, and a fairly decent one at that.  That's nice, but what does it mean?  I think it means that the Cougars have equivalent or better talent than your typical FCS team, and (or) that the coaches can put together a game plan that can be executed properly to allow WSU to beat an equivalent or inferior team.  It does not tell us much or even anything at all about how the program compares to other FBS teams, but the Oklahoma State game does.   In other words, while a lot can be gained by the players and coaches in terms of confidence and experience, not a lot is gained in terms of understanding the current state of the WSU football program by winning this game.
We lose the game – This has serious ramifications, in my opinion.   Read on to see what it would mean if, indeed, the Cougs lose this thing…..
If the Cougars lose, not only would it deliver a terrible blow to the players and coaches, it means one or more of the following:
1)    The Cougars currently don't actually have the overall talent to compete with a typical FCS team. This means that Paul Wulff has actually NOT been recruiting the level of talent he and his staff have led people to believe, and calls into question this staff's ability to recruit.  Does anyone believe that?  And if it is true, then we are dealing with a staff not ready to coach and recruit at the FBS level.
2)    The coaching staff is not capable of preparing an FBS team with FBS talent to play an FCS team with FCS talent. This means we have coaches who are not yet at the level they need to be in order to prepare a team to play and compete against another FBS team.  There are only two logical paths to follow from here:
a.    Expect and hope that the coaching staff will improve, and rapidly
b.    Replace some or all of the coaching staff
3)    The coaching staff is not FBS capable and the talent is not at the FBS level.   This has only one logical path that can be followed, and I think it goes without saying.
This is why I both like and hate the Montana State game.  On the winning side, I like it because a win will be a shot in the arm for the program and players, but I hate it because a win reveals next to nothing about the state of the program.    On the losing side, I like it because a loss will be very enlightening, but I hate it because a loss will be so devastating.
Ultimately, I hope and think WSU wins, and wins big.  More than anything, our Cougars just need a win.
What do you think?  Let's hear it!