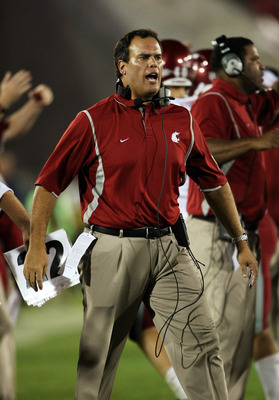 Four games down, eight games to go.  With that, let's recap the Wulff radio show for the fifth week of 2010, shall we?
But before we get to the ten or so things to take from this week, well, Wulff's tone on the show was quite different than it's been this year.  I guess that shouldn't come as a huge surprise, but he sounded tense, and even a little angry at times.  His answers were shorter and to the point, and there was very little waxing eloquent about the task at hand, or his experience back in '88 when the Cougs upset #1 UCLA.  Basically he sounded like a guy who is fed up with a lot of the same stuff that we all are, and he's sick of the losses and lackluster performances too (well duh!).  Anyway, just wanted to pass that on.  Here we go to the recap:
1)  Bud started it off saying how physical practice was, as he attended the last practice. 
Wulff said "Yeah, we got after it.  We need it obviously.  Against SC defensively we didn't play well, and those things happen.  It can work as a wake-up call for the defense, but it is part of the process of growing, so each week is important.  The week before this game, vs. SMU we played pretty well and we were more physical on defense, but it didn't happen last week."
Bud brought up the video, and the player reactions when they see things on the video.  Wulff said "They take it all in.  There is always disappointment and also good feelings too.  Film study gives us a chance to teach, do all that we can do, and it's good education for them and make sure we don't repeat the mistakes we see on the video."
Bud asked if the players know they made mistakes immediately?  Wulff said that "they realize we see it from the eye in the sky.  Sometimes when you see it through the camera lens it changes the thought process of how it went down in the moment.  There are things you notice from video that you otherwise might miss without it." 
2)  Bud asked about the SC game.  In the 2nd half it got away.  Do you just flush that game and move on, or do you dwell on it a little bit and try to use it as a learning experience? 
Wulff said "We've got to utilize it to our advantage, to try and get better.  You do eventually have to flush the game, but take moments out of it and apply it.  And there were some good things in that ball game.  There are thing we need to look at obviously, and there were things we've never done before in a game, but we just have to use what we can and keep building and growing."
3)  Bud asked about the psychology on the team right now, and how do you keep them moving forward?  Most of these kids are from successful high school programs, but is all the losing tough on the youth?
Wulff said "It can be VERY tough.  And I very much feel like a psychiatrist at times.  But we need to figure out ways to keep them going in the right direction."
"Right now, there are 90 players on the roster who have been here 2 years or less.  We only have 15 players who have been here beyond 2 years.  A lot of these guys just haven't experienced a whole lot.  But it's not like we have "tainted" kids expecting to lose!  With that much turnover so far, a lot of them weren't here in '08.  But we have to keep growing these guys.  But we don't have brainwashed guys or guys who think they are going to lose.  We are playing more young guys in Pac-10 and maybe the country, and it is just the way it is right now." 
"This year and the following year we will take GIANT STEPS.  When players get a year or two of experience and also get in the weight room they get better.  I know that I was a lot better in my 3rd and 4th year compared to the 1st and 2nd year, that is for sure.  When they take those steps, they will be good players.  We just have to be more patient than we want to right now." 
Bud  then asked about the young guys, and if they are leaning on upper classmen for leadership?  Wulff said that "Yes, they are.  We only have three players who have been here for five years, and that's it.  There aren't a lot of those kinds of guys to turn to.  We have to continue to foster leadership with the young guys, and give the young guys the priviledge to lead.  We do have some seniors as JC transfers, guys who have been here for three years now (Zach Williams, Chantz Staden).  But we just need more of it.  I have been around young teams and have been through this kind of thing before.
I see it so much of a similar situation as to what Mike Price went though after the Rose Bowl.  From 98-2000, he had a lot of young guys, but he let them play and develop.  Then in 01-03, there was a lot of success, unprecedented success at WSU." 
4)  Bud asked about the progress of the passing game.  He brought up that with Jeff Tuel, he has now thrown for over 200 yards in each of the first four games, and the only other QB's in the Pac-10 to do that were AZ's Nick Foles and ASU's Steven Threet. 
Wulff said "Yeah, right now we are 4th in the Pac-10 in passing, and we are doing it with good young kids and it will get better.  Our running game has to improve a lot to get better, obviously.  But this is the first time since we've been here where we went into this game and had every drive at least gain one first down.  We never had a single 3-and-out in the game, and that's the first time we've done that since I've been here.  And we were doing it against SC, it's not like we did that against a lower caliber team."
Bud asked about the tempo?  Wulff said "Considering we hadn't done no-huddle in a game this year, it was pretty good.  We didn't do a lot of variations.  But we had some flexibility for Jeff to change protections and plays and those things.  Being on the line of scrimmage early and change plays and those types of things were critical to offensive success.
Bud asked about the alignment, the modified Pistol offense.  Wulff said "With the tailback behind the QB in the shotgun, it gives you a chance to run either way, and you are not as predictable.  And it allows the running back to be downhill and attack line of scrimmage.  We even ran the option a few times, but their safety came down and made good play.  Having the option as part of it, it can scare defensive coordinators and ease up on the blitzing.  It's good to have the option in there because if you do get hit by that on the defensive side, it can be a scary thing to handle."
5)  A caller asked about how they have only won at home since Wulff was there, but how about a road victory this weekend? And what are his thoughts on what it takes to win on the road? 
Wulff said "Well, I do think we can go on the road and win.  We are getting better and growing and if we can take care of ball, generate some offense and contain their run game then we can do it.  We have to outhit our opponent.  There is no mystery to it, but we have to go out and be physically tougher and play that style.  And it needs to improve.  We do those things, we can win.  Winning on the road is a huge positive, and it is something we really want to do."
Bud then mentioned Rose Bowl stadium, and that WSU has actually won three of the last four down at UCLA ( '06, '04 and '02).  Wulff said "But at those times, the team was playing pretty well.  Alex Brink led them in '06, and they were pretty good back in '04 and also '02.  But to beat them down there in their venue,  it's a great deal.  In 1988,  beating #1 ranked UCLA was great, and just knowing history of that place is great to get a victory. 
If you want to see the last few moments of that '88 upset, check it out:
Or, how about the '02 victory, when Jason Gesser beat the Bruins on one leg, leading the Cougs to the Pac-10 title??
Ah, memories.
6)  A caller asked about the first drive of the SC game, and how that must have been gratifying to score on first possession.  It's been a long time coming.  But the defense doesn't appear to have a lot of enthusiasm, was the defense deflated for some reason? 
Wulff said "That's a great question.  But I don't know what happened, but on Saturday we didn't play physical and made a lot of mistakes.  There were moments when players didn't play very hard too.  I showed it in our Monday luncheon in Spokane, how we had players in the right spot but they just didn't make plays, or didn't wrap up or hit hard enough, or had a lot of broken tackles.  Not to call him out, but a lot of them were on CJ Mizell, and some of our young players playing.  And they might have been intimidated by the opponent too.  There were times we had between 4 and 7 frosh out of the 11 playing on defense, all on the field at the same time.  When you are lining up 4-to-7 frosh vs. USC, they realistically won't be as confident.  Now offensively and special teams, we had great effort and growing confidence.  But something happened on defense.  It is a lack of consistency right now.  Not uncommon with young teams, but it is very frustrating."
"And the first drive was great.  We converted on key thrid downs, we moved down the field and scored.  It's the first time we've done that, having the players execute like that out of the game and make plays.  We can build off that.  Remember that we still have eight games left, so we have to keep growing and taking those moments and get better."
7)  Bud said that well, if the defense is playing poorly, do you have enough depth to pull them out or do you have to be careful with confidence?
Wulff said "We are not reluctant to do it.  But if we put someone in, it's a freshman.  That's not a bad thing necessarily, but it's still frustrating.  It is fun with young and growing talent, but it is a pain in the rear to be honest to deal with at times.  Realistically those young guys should be backups and watching the juniors and seniors, then when their time comes they would be ready.  We just have too many playing who aren't ready, but they are going to have to be ready and they have to grow up now."
8)  Lots of UCLA talk.
Bud said they looked pretty bad early in the year, but then beat #23 Houston and #7 Texas. 
Wulff said "They have played well, especially on defense.  There is some real talent in secondary, and their d-line is really athletic.  They are very sound on defense and are veteran enough to make plays.  Being able to run the ball has allowed them to control the clock on offense as well."
"Kevin Prince is healthier now, and he is very deceiving when he runs the ball.  He runs it very well (long td vs. WSU last year of 68 yards, 32 yarder last week vs Texas).  He has the speed to go North and South pretty quick.  But if you watch what Nevada did vs. Cal in the Pistol offense, the QB ran the ball really well and all the motions and things they do with that scheme, you can see that a mobile QB is a real threat.  UCLA is doing it now wtih a deceiving QB, you just don't think he can run that well but he does."
Bud asked if that means more pressure on the linebackers to rebound after playing poorly vs. USC?  Wulff said "It will be interesting to see.  They have to play better, regardless.  They have to play better, tougher, they have to wrap up and play better football.  There is only room for growth.  Even Alex Hoffman-Ellis shows flashes of good things, then things break down and he makes mistakes.  But let's remember how inexperienced he truly is.  He is not what you would call a "savvy" veteran". 
Bud  said that UCLA is 20th in the nation running, but they are not throwing it much.  They only threw 9 times vs Texas, just 5 completions for 27 yards.  So the defense isn't honoring the pass, yet they are still running it well.  Wulff said "No question, they have done a very good job running the ball.  I have been impressed with their evolution and how they are doing it.  They spent a lot of time at Nevada in the offseason learning their offense, and they are implementing the offense quite well."
Bud said it must be a guessing game running the ball, but they are talking about throwing it more to balance things out.  Do you think they are going to try and throw it more this week?  Wulff said "Well, I think that they will stay with what they do and what is successful, but yeah, I can see them throwing more this week, and that will probably occur.  They will also probably do more play-action off the running game.  I don't think it will be a LOT more passing, but it will be more than last week." 
Bud said Jonathan Franklin has had over 100 yards last 2 games, and Derrick Coleman is a big complement at running back.  Wulff said "Franklin we recruited out of Dorsey High in LA, but he ended up at UCLA.  He's not big, but not small, 5-10 200.  He can run really well."
"Coleman is a bigger, physical guy at 225, 230 pounds.  Both are really good tailbacks and are capable of hitting holes.  In this offense they are going to hit holes quick, so it will be a big challenge for us to be disciplined.  They are going to get some rushing yards, but we have to contain them and not give up the big run."
Bud asked if their o-line was finally coming together?  Wulff said "It is, and they are really big.  Somehow they ended up with four seniors starting up front, and now they have some size and maturity.  They get their big bodies on bodies, in their system with deception, and it can freeze the linebackers just enough so the running backs run down hill.  Those big bodies can soften up the d-line and those backs hit the hole well."
Bud  asked about Akeem Ayers and Rahim Moore, the stud defensive players on UCLA.  Wulff said they are "very athletic.  But both of their corners are big too at 6-1, 6-2, sophomores who are back from last year.  They have size, athleticism, speed, just really good young players.  Their defense has come together and are playing hard.  And they rotate a lot of d-linemen in and they stay fresh, and play well."  Bud asked if that means they will see more pressure from the UCLA defense?  Wulff said "They will pick their spots.  They aren't as big as USC's d-line, but they are more active and quicker than USC."
Bud asked about the Pistol, and would that catch a team like UCLA by surprise?  Will it be tougher to execute?  Wulff said "No, our scheme is different than their scheme.  They will go two tight ends, we will do our pistol with four wide receivers, where we are more apt to throw the ball vs. their running scheme.  We will have some things in this week that they haven't seen before and we'll do that.  But no, it's not exactly the same as what they do."
9)  It was brought back around to the tackling.  Bud said he talked to a number of players, and that it was a physical one.  On Wednesday, will it be physical again, and then start to back off this week on Thursday?  Does that stay the same for Thursday as you have done in previous week's? 
Wulff said "No, We NEED TO KEEP HITTING!"  Bud said "Does that mean going back to hell week, ala Jim Walden and his era where they hit every day?"  Wulff said "No, we won't go to that degree, but it is going to be physical and what needs to happen right now!  On defense, we are on our heels.  We need to attack on defense, run down hill.  When you don't play that way it will be a LONG day.  We didn't do that for some reason against SC, so we need to fix it."
Bud asked about the d-line, and if they hope for more tackles vs. the running game of UCLA?  Wulff said "I SURE AS HELL HOPE they make a heck of a lot more plays than they did on Saturday.  They need to get off blocks and make plays.  We showed video from Saturday at the luncheon, and the linebackers are letting themselves get blocked, or they are not shedding linemen and making tackles.  We have to attack the offensive players, use our hands and attack the blocker, put your eyes in the right spot and then shed the blocker and make the play.  We just didn't do it.  There is no excuse, we just didn't do it.  We need to come back and redeem ourselves." 
10) ONE FINAL THING – Some of the Florida kids were in town for a recruiting visit, and Wulff said it went "Really well." He obviously can't name them, but you can probably figure out who was there by the current known list of commits.  Wulff said they are "high-character guys, with good speed.  We also had a lineman who committed, so overall I couldn't be happier.  And the recruits are very exicted to be a part of building up the program, just a wonderful group of kids.  AND, three of them are very good students and will be here in January, graduating early and ready to enroll and will be in spring ball, two of them wide receivers and one of them a linebacker who will be here.  But we don't have them yet.  We know that Michigan State and Purdue are coming hard after them, trying to get them to change their minds, so we just have to get them in and get them here."
Quick question – if a player enrolls in January, how does that work for letter-of-intent day in February?  Do they just enroll for that semester, and then also sign a letter-of-intent?  Or do they just skip the letter and they count against the 2011 recruiting class?  I'm just curious, I really have no idea how that works as I don't recall WSU ever having a high school recruit enroll in January, before letter of intent day? 
So, I guess that's a wrap for this week.  Again, he wasn't in a very good mood and made it very clear that tackling and hitting are the theme this week, and will continue until Friday at the earliest.  And I say, good for them.  That performance was terrible defensively against SC, everyone in the world knows it.  So at least they aren't wishy-washy, oh-golly-gee-shucks about the whole thing.  They are setting the bar higher than that, and they are expecting better than what they saw.  Here's hoping they respond.
All for now.  GO COUGS!