Welcome to the weekly radio show recap, as Paul Wulff and Bud Nameck got together for week #3 of 2010.  What did Wulff have to say about the Montana State game?  And anything to add over his job security, rumors, stuff like that?  Read on for more…..
First, sorry to disappoint but no, they didn't discuss the topic of the moment around the blogosphere/message boards/etc.  Not that you would fully expect something like that on his own radio show, but Bud did NOT bring up Wulff's job security, his thoughts on blogs and boards, really none of that talk at all crept into the evening.  It was pretty much business as usual.   
Anyway, on to the recap, with the 10 things to take from the show.
1)  They opened the show by talking about how to use the headsets….seriously.  You know, the headsets the coaches wear?  They talked about who can talk to whom, what is said, what they talk about, how crowd noise can cause an issue with noise on the headsets, that sort of thing.  Interesting, I guess.  Moving on, they talked about today's practice.  Wulff said "Practice was really good, yesterday and today.  We are excited to take another step this week.  With the youth and excitement, we had some really good practices this week." 

2)  Bud asked about SMU, and how they've been running a heck of a lot more already in 2010 than in prior years under June Jones.  Wulff said "Their running backs have done a great job so far.  They are running well, and the SMU offense definitely has more balance this year."  When asked about what looks different about SMU this year compared to last year, Wulff said "They are just more mature.  They have a lot more speed too.  You can see the recruits that June Jones has brought in in three years, and they are showing up on the field.  And they are healthy, with a lot of guys from last year's game back for this year.  And they have a new QB who is really good, has a big arm and plays well in their offense." 
Of course, Wulff is talking about Kyle Padron, SMU's sophomore QB.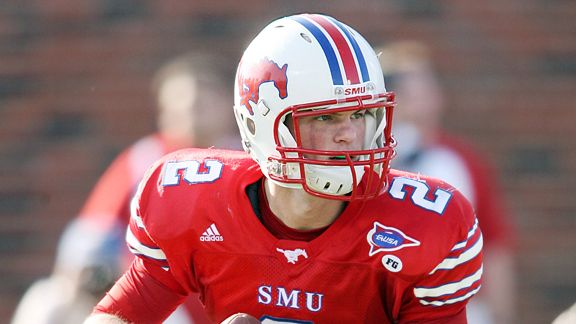 Padron is off to an OK start so far, completing 54.9% of his throws for 363 yards and 4 TD's.  But last year, that might have been a one-game total, this year it's two games.  But they really are running it better, in fact SMU's up to 178 rushing yards per game.  Small sample size obviously, just two games so far, but they do look and sound more balanced than before.
Also on SMU, later on they talked defense.  Wulff said "SMU will run with three down linemen and four linebackers, and they move players in and out.  They have a lot of speed at linebacker, and they will give you different looks in the secondary to try and confuse you.  They are tough against the run and have excellent athletes, with good speed on defense." 
Wulff added that they recovered well from the WSU loss last year, getting to a bowl game and beating Nevada.  And they were tough to open the season vs. Texas Tech, and beat a good team in UAB last week.  In the 90-degree heat that is forecast for this week, it is going to be a tough game! 
3)  Bud asked about WSU's health right now.  Wulff didn't hesitate here.  He said "We are in good shape right now.  We're a little nicked up here and there, but I have to say that this is the best shape we've been in after any game in my 2+ years here."  Wulff also added that in the health department, both Mike Ledgerwood and Bernard Wolfgramm practiced, and they are hoping both will be back this week.  Gino Simone is coming around too.  Wulff said he didn't factor in a whole lot to the passing game vs. MSU, but it was good for him to get out and play, and develop some confidence on his injured hamstring.  But he has had "some great practices Monday and Tuesday this week, so he's getting a lot better."  Also at wideout, Jared Karstetter is obviously fine after last week's concussion, and he had a good game vs. Montana State.  And Kristoff Williams practiced today, and they are hopeful that they can get him on the field this year.  Wulff did say that when it comes down to deciding on either redshirt or playing Williams, he called it a "play and see" approach.  If they are healthy at the position of wide receiver, and he isn't fully healthy as the season goes on, then OK, maybe it's time to redshirt him.  But Wulff said they really want to get his physical presence on the field.  He said he is "gifted" in many ways and they would love to add him to the offense.
4)  Staying with the young theme, Bud asked about who we have seen so far, and who might we see the rest of the way in terms of youth.  Wulff said "Toni Pole at defensive tackle is battling a leg swelling issue, with fluid a problem.  But he could play.  Also Andrew Furney may play as well at kicker."  Among guys we have already seen, Wulff mentioned Damante Horton and Deone Bucannon, saying they "have excellent skills and we REALLY like them", and Wulff compared them both to safeties who came through WSU back in the early 2000′s (Erik Coleman perhaps?).  Wulff also mentioned CJ Mizell and John Fullington, and how they have been impressive thus far.
On Mizell, Wulff said that he has shown "great flashes" but he still has a ways to go.  He said that Mizell is "still rusty from missing a year of football last year, and he wasn't in for spring ball either, so he has a lot to improve on."  But yeah, I know we as fans can all see what Mizell can do! 
5)  Bud asked Wulff about the Pac-10 in general, and what he has seen so far. Wulff said that he thought overall the conference had scheduled well, and had played pretty well so far.  He talked briefly about the Stanford-UCLA game, and that Stanford looks really good.  He was also "surprised to see Andrew Luck running more this year.  Luck is a tough kid, and you see his build and you can picture him becoming a "Tebow" type runner at QB."  Wulff also said that both Arizona and UW have good chances this week vs. Iowa and Nebraska, getting them at home.  Bud asked about Nick Foles, who has completed 83% of his passes so far this year (!).  Wulff said "we haven't done that against air, let alone skeleton drills.  But Foles is a heck of a player.  Very accurate, and big." 
Wulff then added that he has talked to Mike Stoops at AZ recently, and they talked about what Stoops went through to rebuild Arizona. 
Wulff said "Stoops took over after three tough years under Mackovic at Arizona, and he started over with that program.  It took until the 5th year before they got to a bowl game.  But they just kept recruiting and recruiting, building it with high school kids, and now they are in bowl games in their 5th and 6th seasons.  They have grown up as a program." 
I know you can figure out why Wulff would happen to mention that.  It's not hard to look at Wulff now and think of some other programs around the country that have had coaches in similar situations as Wulff, where it's a big early struggle out of the gates.  And Arizona is a good success story, if you want to try and point to something out west that WSU is trying to emulate.  But what was interesting was how Wulff wasn't asked about Arizona's rebuilding process, or Mike Stoops.  Bud just asked about Arizona on the field so far and Nick Foles, and Wulff took it the direction of Stoops and what he went through to build it. 
6)  Back to the Montana State game, Bud asked about what happened after the Hoffman-Ellis interception that gave WSU the ball, first-and-goal at the 4, trailing by 2 points.  Bud asked if they have a script for that situation, or do they just call it by how things are going?  Wulff said "we do have scripted plays, for basically every situation and location on the field.  Since we had first down inside the 5, I thought we could punch it in.  We almost got it at first with Montgomery, and then we called for the QB sneak with Tuel, and it misfired.  But we have GOT to get it in the end zone!  We had a few breakdowns, and MSU played good goal line defense.  But we have got to get it.  It was a good teaching opportunity about how we execute in that situation."
Bud asked about what you teach in that situation, where you just have a small amount of ground to cover for a first down or TD.  Wulff said it is a combination of strength and leverage, but it's also "nice to have a big strong QB in Ryan Leaf or Drew Bledsoe, big strong guys who can move forward and plow and get that yard.  Size and strength at QB can be a big factor.  Right now Jeff Tuel isn't where he is ultimately going to be.  He is getting stronger but he isn't there yet."  Bud asked about going in another direction at that point, where you might want to spread the defense out with your formation and then QB sneak it in anyway, and then there are fewer bodies inside that you have to worry about?  Wulff said "We thought about it but it looked like it was going to work with the group that we had in there.  And Tuel did almost get in, we thought he got in for a moment, but he didn't." 
Bud also asked about the weird ending to the game, where it looked like WSU could run out the clock but they ended up with an issue with the play clock, and MSU ended up getting the ball back with 16 seconds left.  Wulff said "We thought that if we took a knee for all four downs, they would burn their timeouts and would probably get the ball back with 10-12 seconds left.  But I did NOT want to hand the ball off in that situation, for fear of a fumble.  Just look at the Dallas – Washington Redskins game on Sunday night.  Four seconds left before the half, Dallas tries to make a play in the middle of the field instead of taking a knee, the running back fumbles the ball, Washington runs it back for a TD with no time left, and that ended up being the difference in a 13-7 game.  The odds are better to milk the clock and force them to throw a Hail Mary to try and beat you."  (However, it must be said that MSU was only down by 1 point, so they only had to get into field goal range, not necessarily have to throw it 70 yards for a TD).  But Wulff said "In the end we did it right.  We WON the game."

7)  A caller asked Wulff about leadership, and how there seems to be some of that missing this year. Anyone emerging as a leader?  Wulff said that "Right now, on offense Chantz Staden, BJ Guerra and Jeff Tuel are emerging as leaders, definitely.  There are not a lot of vocal guys, but there are leaders.  And that will emerge over time as well."  Wulff added "On defense, Brandon Rankin, Alex Hoffman-Ellis and Myron Beck are the leaders right now." 
The caller also asked about turnovers on the first play of the game, two weeks in a row?  Wulff said "We may just do a QB sneak this week and be done with it, who knows."  But he did want to point out that they will get that cleaned up.
8)  A caller asked about Andrei Lintz and the tight ends in general. Wulff said that Lintz has "really good athleticism, and he's improving as a physical blocker right now.  He has a lot of raw talent."  And Skylar Stormo is going well too.  Wulff said both guys are "eager, good kids" and they are excited about Aaron Dunn as well, lost for the season with the wrist injury.  And to add to the tight ends, Wulff said that they now have two verbal commitments from two tight ends, guys who are "extremely athletic".  Note – does anyone know who he is talking about?  Wulff can't name the commits obviously, but in looking at the current commits, I can't figure out who the tight ends are he's talking about.  Maybe some projected position changes at the next level?
The caller also asked about what look to be poor snaps by the center when they are in shotgun?  Wulff said "that is a great question, and yes, we are struggling right now.  Zack (Williams) has to get better at that.  Bad snaps are affecting Jeff Tuel, and it can make it hard if the snap isn't very good."  But Wulff quickly said "But remember, even though Jeff through that interception, he still went 19-for-28 with two TD passes.  And he made some great plays, including the rollout and throw to Karstetter on third down to get a first down, and the TD throw to Karstetter, and the throw to Staden out of the backfield."  Wulff added that "Jeff is not happy with his mistakes, but he is learning.  But the great thing about him is that he says things to coaches before the coach does.  He is very, very smart, and we are very impressed with Tuel!"

9)  Bud asked about Dan Spitz, and the news that he was moving to offensive line. If you haven't heard, it's true – Dan Spitz is moving to tackle, coming across from the defense.  Anyway, Wulff said "Spitz is changing positions, and we look forward to his growth at offensive tackle.  He's 285 lbs now, but he's been holding back his weight a little bit and not eating as much.  Now he can eat, and he'll probably be up to 300 in a couple of weeks." 
Wulff is also excited about offensive line in general, saying "We just got a commitment from a lineman who could be with us in January, and he's a really good athlete (we can speculate here, he's got to be talking about Rico Forbes, the JC tackle from Texas).  Right now we have six or seven kids who are all 6-6 or 6-7, with a lot of high-quality frames and they are excellent athletes.  Once we add to the line with this upcoming recruiting class, we think the line will be the real deal." 
10)  Finally, a caller asked about the Montana State game, one last time. Wulff said "I am really proud of the way we came back.  These players are really high-character players.  Some people don't know this, but we just had the biggest fourth quarter comeback win at WSU since the Stanford game in 1984.  That says a lot, and this win is going to be a great learning tool going forward."  And Wulff said "In my program, there are a couple of traits we will have going foward.  1) We will be a tough, hard-nosed football team, and 2) we will play well in the fourth quarter, as well as late in the season.  We are getting there, it's where we are headed.  These players just need to learn how to finish." 
They also talked about the team being "tight", and Wulff agreed.  He said that is "up to the coaches to lossen 'em up.  We have to get them to come out, relax, and go play.  They WANT to do well, but they just have to channel their energy right.  The "WANT TO" is there." 
"We will make improvement this year.  If we can stay healthy, we will improve.  I really like the "make-up" of this team." 
They briefly touched on other things, like how Wulff and the coaches manage their time (every morning, the coaches write four letters to four recruits, every day.  So four recruits every day get 10 hand-written letters, one from each coach.).  They also watch film in the evenings after practice, your typical coaches schedule most likely.  Also, for SMU the team is leaving at 7 AM on Friday morning, so they can get to Dallas and get acclimated to the heat.  It is going to be in the 90′s for the game, a 2 o'clock start out there, so they want to get down there early as possible.  Wulff also said getting there early will give some of his Texas players like Chima Nwachukwu and Hallston Higgins a chance to see some of their family on Friday night.
That's it for the radio show.  As usual, the WSUCougars.com site has the Wulff press conference highlights as well, and you can see that here:
Enjoy your Humpday, and as always, GO COUGS!