Happy Thursday to you Cougar fans!
LucasCoug here with another edition of Odds and Ends.  There is quite a bit to get to in the WSU World, so continue reading for more…
So everybody wants to know what is up with Kevin Norrell.  The one-time Wazzu WR, who left Pullman last semester to be closer to his ill father has landed at a SoCal JUCO.  Per a report from Howie Stalwick, Norrell has enrolled at El Camino Junior College. According to ECJC's Offensive Coordinator, Eugene Engle they have two remaining spring practices and Norrell looks good.  He was suspended from the WSU team for the 2009 season, but was expected to compete for serious playing time this fall.  Appearing in all 13 Wazzu games as a Freshmen in 2008, he caught 6 passes for 124 yards.
I don't know about you, but after seeing our four scholarship WRs have a spring practice that was mediocre at best, the Cougs are definitely going to miss Kevin.  An occasional visitor to the Blog last Fall, we here wish nothing but the best for the Norrell Family. 
NOTE – EDIT TO ADD that Mr. Norrell emailed the blog yesterday, and gave us an update.  Mr. Norrell's health is improving, and that's great news.  But here's part of what he had to say about Kevin:
The saying, once a Coug always a Coug is a true statement. Kevin Jr wears his WSU gear all the time, when he goes to football practice, he wears something with Cougars on it and puts on a show.  Clearly the MVP of spring ball at El Camino JC, one of the top JC Football programs in the nation. We can tell the influence coach Levy had on him, Kevin Jr makes the DBs look silly.                                    
Schools that have attended practice, Pac 10, WAC, SEC, MTN are excited to see Kevin Jr play, with pads on this fall.  So who ever needs that last piece, that's were Kevin Jr will go. It is nice to know he is wanted still.  
People ask me, knowing what you know now, and how your son was treated at WSU, would your family consider a return to WSU?  My humble answer is absolutely! As my family has said many times, we have nothing but Love & Respect for Coug Nation and wish the coaches and the team the best.  Kevin Jr will be watching every game that is on TV pulling for his boys to win. The old saying, once a Coug, always a Coug is True. Go Cougs!
The Norrell Family
In recruiting news, the WSU staff recently became the first to offer California DT, Brandon Tuliaupupu.  The 6'2″, 275lb Claremont HS standout had 41.5 tackles last season.  He also holds offers from Wyoming and Kansas.  Holy crap, take a  look for yourself, he is #56 and totally relentless! 
It would be great to get this young man into the fold.
Two other quick football notes.  Kenny Alfred was released yesterday by the Tennessee Titans and former RB, Kevin McCall made his musical debut on a track for Chris Brown.
Moving on from football…
Last week at the Coaches Dinner in Yakima, many believed that when Coach Bone omitted talking about incoming guard Faisal Aden, that the oft discussed academic issues would prevent him from playing for us.  This however is not the case according to a free article over at Cougfan.
Aden originally planned to be in Pullman sometime this month.  He said he should be in Pullman by the end of July and that his Associate's Degree is almost wrapped up.  Adding, "I'm anxious.  I think about it every day.  We will have a really good team, I believe — and I believe were are going to do some things, build some good team chemistry and it should be exciting…"
According to Assistant Coach Ben Johnson, this does mean Aden will miss the majority of the unofficial workouts this Summer in Pullman.
Aden led Hillsborough with 23 points per game last season, as the Hawks won the Suncoast Conference, and Aden made first-team all-league.  Official stats have him averaging 3.0 steals a game, shooting 43 percent overall from the field and 32 percent on 3-pointers. He made 74 percent of his free throws and also logged 3.3 assists and 4.05 rebounds per game.
Seeing the staff added a 6'6″ Guard from Down Under, just this week, once again the Cougs will be crowded in the backcourt. This also leaves WSU without any available recruiting slots for 2011, as the team will have no Seniors this year; unless of course we see some attrition.
On to baseball…
Last night Donnie Marbut and Co. knocked off the University of Portland in what appears to be a tune-up game before they head down to Pasadena to take on the 7th ranked UCLA Bruins.  Freshman Travis Cook pitched into the 7th inning to earn his first collegiate victory.  This was a matchup of teams headed in completely opposite directions.  The Pilots now own a 9 game losing streak, while the Cougars have won 7 in a row after knocking of Gonzaga on Tuesday. The Cougars have 65 wins over the last two seasons, the most in a two-year span since 69 in 1993-94, Bobo Brayton's final two years as the WSU head coach.
Many of you are probably wondering why I have posted a picture of our hunk of a former coach….
Well many of the "experts" have the Cougs flying across the country next week to play in the Charlottesville Regional.  Baseball America predicts we will be joined by host, #1 Virginia, as well as unranked James Madison and Liberty.  The winner of each four-team, double elimination regional moves on to the second tier, the Super Regionals. In the SR's, the 16 teams play a best of three series to determine the eight schools who move onto the College World Series. The CWS is similar to the regionals, with two double-elimination brackets of four teams each. The bracket winners then meet in a best-of-three final to be crowned National Champion.  The 64 team field will be announced this coming Monday on ESPN.
I know TB was a huge fan of Cougar baseball.  He was at all of the games I went to back when I was an alcoholi in college. Do you think he will wear one of those stupid split allegiances shirts like Brady Quinn's sister wore for her brother and her boyfriend, AJ Hawk?  Man, if Hawk ever sacked Brady, I can only imagine the awful things I would have said if I were him.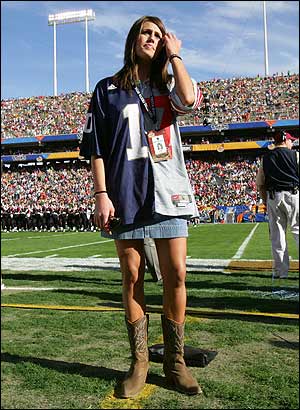 And with that last sentence, I have officially derailed.  Have a great day, Go Cougs!