Top of the morning to you Cougs!  Well, with the year – and decade, for that matter – winding down, we thought it would be a good idea to take a look back at Cougar football.  Wait, a look back at '09?  Nah, not really.  We're talking the entire 2K DECADE.  And why not?  I mean everyone's doing it online these days, these "best of the decade" type lists are showing up everywhere.  And even though the recent past clouds things, there were some fantastic Cougs who donned the crimson-n-gray since the 2000 season.  So why not honor their amazing accomplishments over these last 10 seasons?   
But it's not really for us to decide who's the best, is it?  For YOU, Cougar Nation, have just as strong opinions on this kind of stuff as we do.  So with that, we'll settle this the American way.  That's right, it's voting time. 
We'll nominate the best offensive and defensive players of the 2K decade, and then you take it from there.  We've made a list of players from both sides of the ball, and now, here's the offensive nominees, in no particular order.  The poll is at the top-left of the site.  Next week, we'll go over the top defensive nominees, with a new poll for your voting pleasure.  Of course, they are ALL WINNERS or else they wouldn't make the list…..but we thought it would be kind of cool to vote. 
And please, feel free to weigh in on comments and make your case.  Did we miss the boat on someone we should have nominated?  Are we overrating someone, just based purely on stats alone?  You know, your basic blog-fodder. 
And now, without any further delay, our nominees for top Cougars of the decade, WSU Football Blog style!
1) Jason Gesser, QB, 1999-2002.  Well DUH.  The guy who Mike Price called the MVP in the history of WSU athletics, and rightfully so.  Maybe not the greatest start to his career, with limited time in '99 and a broken leg towards the end of the '00 season.  But since Gesser played the vast majority of his career this decade, he's on the list.  The beauty of it all is that Gesser put it all together in 2001.  His QB play in 2001 and 2002 led WSU to one of the greatest two-year runs in school history, leading the team to a 20-5 record and a Pac-10 title in that timeframe.  He's near the top of the WSU record books in career passing yards (8,830) and TD's (70), but most of all the guy was a winner, pure and simple.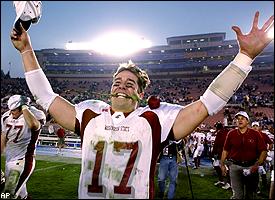 And, without a doubt, one of the most courageous performances in WSU history when he led WSU to a huge 48-27 win at UCLA on December 7th, 2002 (hey, seven years ago yesterday!), giving the Cougs the Pac-10 title and second Rose Bowl in five seasons.  Gesser played that game with a severe high-ankle sprain suffered two weeks prior in that terrible loss to the hated Huskies, but he rallied the troops vs. the Bruins with 247 yards and a couple of TD passes on literally ONE LEG.  Remember??
Amazing.  Whether or not he wins this poll is one thing, but old Gess, he'll always hold a super-special place in our hearts! 
2)  Jerome Harrison, RB, 2004-2005.  It's a shame we only got to enjoy "the ghost" for two years.  The JC transfer from Michigan started to show what he could do towards the end of 2004, including a school record 42 carries vs. UCLA on his way to 900 rushing yards on the season. 
But he absolutely BLEW IT UP in '05, rushing for a school record 1900 yards on an unbelievable 6.2 yards per carry, as well as a Pac-10 record 14 consecutive 100+ yard games. 
The best way to describe Harrison, for those who can't remember?  He was Jacquizz Rodgers, before Jacquizz Rodgers, you know what I mean?  Anyway, I think we can all agree that if only Jerome had one more year, maybe, just maybe, they could have finished the deal in 2006 and gotten back to the postseason….which brings us to our next nominee.

3) Jason Hill, WR, 2003-2006.  The school record holder in career TD catches with 32, Hill actually ranks among the all-time TD receiving machines in Pac-10 history.  What makes it all the more incredible for Hill?  He had those 32 TD's in just THREE seasons of playing wide receiver!  Hill's true frosh season was spent on special teams, and he didn't record a single catch until his true sophomore 2004 season.  Hill would have two consecutive 1,000+ yard seasons, but his last year turned out to be a slight disappointment, when he missed the last three games of the year with the dreaded high-ankle sprain, all the while WSU went from 6-3 and a certain bowl to 6-6 and home for the holidays.   
Hill was special in his own right, making some outstanding highlight-reel type catches with great body control and fantastic hands.  Hard to argue with 32 TD's in three full seasons as a wideout!  That's some serious production.  Which leads us to, yep……the guy who threw him the ball all those years….
4) Alex Brink, QB, 2004-2007.  Ah, so much can be said about Brink. WSU's all-time leading passer in terms of passing yards with 10,913, as well as an amazing 76 TD's, he's certainly earned his place in WSU history through his 3 1/2 years as the starter.  Not bad for a kid recruited by Boise State, EWU and WSU! 
And, yes, we'll always have the 3-1 mark in Apple Cups, the only WSU QB ever to beat UW three times.  Best of all, Brink saved his best for last, throwing for over 1,000 yards and 11 TD's combined vs. UW, and furthermore, he NEVER THREW a pick vs. the hated Huskies! 
For your viewing pleasure, of course, the last drive of his NCAA career. 
We'll always have the Apple Cups Alex.  And even though he may forever be known as the QB who just couldn't get the team over the hump/into the postseason/whatever, well, it's hard to doubt his stats.  And ya know, looking at the QB play at WSU since he left?  Uh, yeah, I'd take some Alex Brink right about now……wouldn't you?
5) Brandon Gibson, WR, 2005 – 2008.  Quick, who is the all-time leading in receiving yardage in WSU history?  Mike Levenseller?  Jason Hill?  Michael Bumpus?  Nope, it's Brandon Gibson.  Gibby racked up 2,756 receiving yards, and is second on the school's all-time receptions list as well.  Gibson played in the large shadows of Jason Hill and Michael Bumpus, but he emerged in '07, leading the Pac-10 in receiving yards and yards receiving per game while he racked up all-Pac-10 honors.  And of course, he was on the receiving end of maybe Alex Brink's biggest TD pass of his career, the winning catch in the '07 Apple Cup. 
But even with the impressive stats, like Brink, Gibson played well vs. UW in his last three seasons.  He totaling 19 catches for 293 yards and 3 TD's vs. UW from '06-'08. 
So that's about it.  Yes, it was tough to leave off some names here, especially Michael Bumpus, to be quite honest.  But in the end, it's a solid list. 
Anyway, there's your five top offensive nominees for WSU offensive player of the decade.  Get in there and vote, leave comments, whatever, but let's hear it.  We'll leave the poll open for a week, and then we'll shift to the defensive side of the ball. 
Enjoy your Tuesday, and as always, GO COUGS!